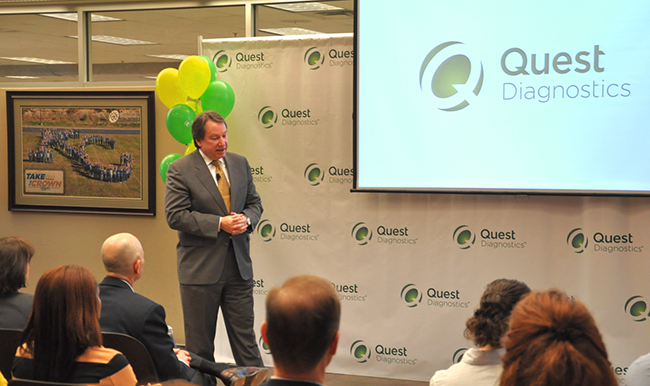 On March 4, 2015, Quest Diagnostics CEO Steve Rusckowski visited our Lenexa, KS laboratory to share his perspectives on the state of the business and to unveil the company's new vision and brand identity. "We have a new logo and a new tagline: Action from Insight. It's all driven around the notion that whatever we provide to the health care system, some action is taken as a result," said Rusckowski.
During his time in Lenexa, Mr. Rusckowski was interviewed by the Kansas City Business Journal and spoke about Quest's footprint in Lenexa and our growing contribution to the Kansas City job market.  He also indicated that he views the Lenexa area as an ideal hub for multiple Quest businesses including some of Quest's most successful and promising business units like those that perform employer drug and wellness testing. He notably stated, "A large portion of health care is paid for by employers… so they're quite engaged in making sure their employees are drug-free."
Our Employer Solutions mission is to show that We're There When You Need Us. Now, perhaps even more than ever, that commitment applies both to the employers for whom we perform critical urine, oral fluid and hair drug testing, and to the local community in which we're a key employer – of drug-free candidates, of course.
For more information about drug testing, visit our website.