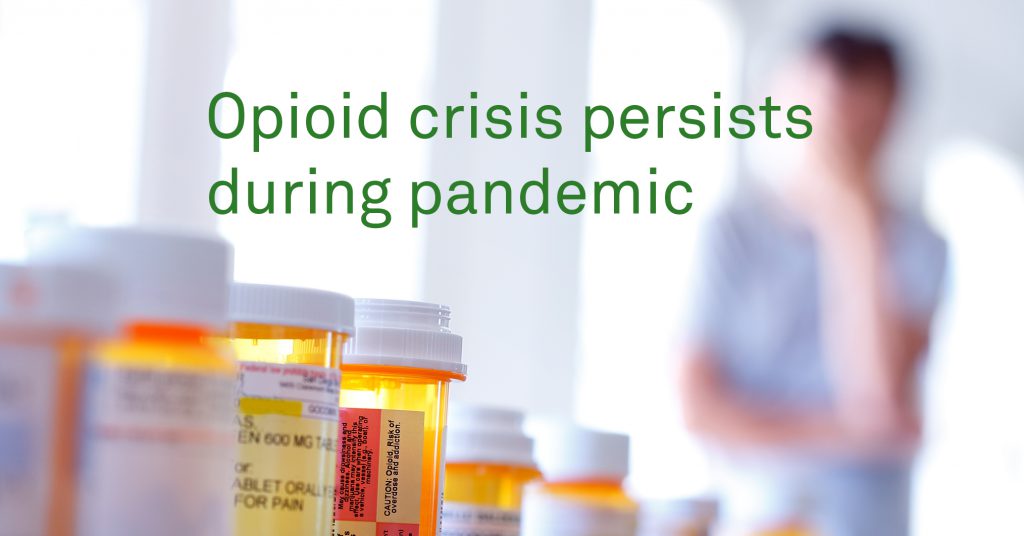 Before the SARS-CoV-2 coronavirus health crisis, our country was struggling with a decades-long opioid crisis that tears through families, workplaces, and communities. Abuse of opioids did not stop when the lockdowns were ordered. In fact, these two significant health emergencies collided.
As healthcare workers fight COVID-19 and the disease overwhelms our healthcare system, addiction and support services may take a back seat. Social distancing and self-quarantine measures can bring risk, anxiety, and isolation for those struggling with substance abuse and limit peer support and access to overdose-reversing drugs. This may leave people vulnerable, stressed out, and potentially poised for dangerous setbacks or relapse.
Triggers for substance abuse
The Centers for Disease Control and Prevention (CDC) recognizes that the outbreak of SARS-CoV-2 coronavirus disease 2019 may be stressful for people and even impact mental health. Individuals may experience anxiety and fear, have trouble sleeping or concentrating, shift their eating habits, stop exercising, lose connections with loved ones and friends, neglect a chronic health issue, or increase their use of alcohol, tobacco, or other drugs. It is especially important to be mindful of how stress can impact reactions to COVID-19, especially people at greater risk for abusing alcohol and drugs or struggling with addiction.
The National Institute on Drug Abuse (NIDA) says: "As people across the U.S. and the rest of the world contend with COVID-19, the research community should be alert to the possibility that it could hit some populations with substance use disorders (SUDs) particularly hard."
Research shows that there is also a strong correlation between trauma and substance abuse. Download our Exploration of Addiction white paper to learn more.
Opioid use in America
The latest data from the National Survey on Drug Use and Health (NSDUH) estimated that approximately 10.3 million people aged 12 or older, or 3.7% of the U.S. population, misused opioids in the past year. Opioids in this survey data includes prescription pain relievers, hydrocodone, oxycodone, morphine, and heroin. Of those 10+ million people, 9.9 million individuals misused prescription painkillers and sadly, an estimated 2 million people aged 12 or older suffered from an opioid use disorder in 2018.
Drug overdose deaths
One of the most shocking statistics we hear about the opioid crisis is from the CDC, stating that 128 Americans die every day after overdosing on opioids. CDC data shows that drug overdose deaths involving any illicit or prescription opioid drug climbed in recent years from 38,329 in 2010 to 70,237 in 2017.
The CDC tells us that opioids—mainly synthetic opioids— are the primary cause of drug overdose deaths. Simply put, two out of three, or 67%, of overdose deaths involve an opioid. Data showed that the rate of drug overdose deaths involving synthetic opioids other than methadone (drugs such as fentanyl and tramadol) increased by 10%, from 9.0% in 2017 to 9.9% in 2018. From 2012 through 2018, the rate of drug overdose deaths involving cocaine more than tripled and fatalities involving psychostimulants with abuse (drugs such as methamphetamine) increased 5-fold.
Summary
The disruption of the SARS-CoV-2 coronavirus extends to all areas of life – including the opioid epidemic in America. It is critical for employers to continue to help create safe, drug-free work environments, which include well-defined substance abuse policies, workforce drug testing programs, and education about the consequences of opioid misuse for its workforce.
"Decreases in overdose deaths involving prescription opioids and heroin reflect the effectiveness of public health efforts to protect Americans and their families. While we continue work to improve those outcomes, we are also addressing the increase in overdose deaths involving synthetic opioids. We must bring this epidemic to an end," said Robert R. Redfield, M.D., Director of the CDC in a press release.
Download our white paper about the opioid crisis and the workplace.
Read the Quest Diagnostics Drug Testing Index™ for trends and drug use positivity in the U.S. workforce.
For more information, visit our website or contact us online.
---
Sources:
Centers for Disease Control and Prevention. New data show significant changes in drug overdose deaths Press release. March 18, 2020. Accessed May 20, 2020. https://www.cdc.gov/media/releases/2020/p0318-data-show-changes-overdose-deaths.html
Centers for Disease Control and Prevention. Mental Health and Coping During COVID-19. April 30, 2020. Accessed May 26, 2020. https://www.cdc.gov/coronavirus/2019-ncov/daily-life-coping/managing-stress-anxiety.html
CDC/NCHS, National Vital Statistics System, Mortality. CDC WONDER: US Department of Health and Human Services, CDC; 2018. https://wonder.cdc.gov.
Hedegaard H, Miniño AM, Warner M. Drug Overdose Deaths in the United States, 1999–2018. NCHS Data Brief, no 356. National Center for Health Statistics. January 2020. Accessed May 20, 2020. https://www.cdc.gov/nchs/data/databriefs/db356-h.pdf
NIDA. COVID-19: Potential implications for individuals with substance use disorders. April 6, 2020. Accessed May 26, 2020. https://www.drugabuse.gov/about-nida/noras-blog/2020/04/covid-19-potential-implications-individuals-substance-use-disorders
Shaffer, Howard J. PhD, CAS and Debi LaPlante, PhD. Recovering from addiction during a time of uncertainty and social distancing. Harvard Medical School. April 3, 2020. Accessed May 26, 2020. https://www.health.harvard.edu/blog/recovering-from-addiction-during-a-time-of-uncertainty-and-social-distancing-2020040319381
Substance Abuse and Mental Health Services Administration (SAMSHA). National Survey on Drug Use and Health (NSDUH). Key substance use and mental health indicators in the United States: Results from the 2018 National Survey on Drug Use and Health. HHS Publication No. PEP19-5068. August 2019. Accessed May 20, 2020. https://www.samhsa.gov/data/sites/default/files/cbhsq-reports/NSDUHNationalFindingsReport2018/NSDUHNationalFindingsReport2018.pdf
U.S. Department of Health and Human Services (HHS). What is the U.S. Opioid Epidemic? September 4, 2019. Accessed May 26, 2020. https://www.hhs.gov/opioids/about-the-epidemic/index.html
Wilson N, Kariisa M, Seth P, et al. Drug and opioid-involved overdose deaths—United States, 2017-2018. Morbidity and Mortality Weekly Report (MMWR). March 20, 2020. 2020;69:290-297. Accessed May 20, 2020. https://www.cdc.gov/mmwr/volumes/69/wr/mm6911a4.htm