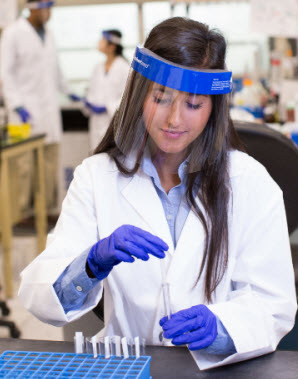 This past year has been anything but ordinary. The actions taken by our healthcare community in response to the challenges COVID-19 brings has been nothing short of extraordinary. Now more than ever, a spotlight is shining bright on our laboratory professionals.
Laboratory Professionals Week, an annual celebration, is April 18-24, 2021. Every year in April, we honor the everyday heroes who play a critical role in providing insights that impact employers, physicians, healthcare professionals, and our communities. Their work is essential and makes a difference in helping to keep our workplaces safe, healthy, productive, and drug-free.
Every day. Essential. Heroes.
"Our work on behalf of drug-free workplaces would not be possible without the expertise, care, and resolve of our lab professionals. We are proud of them and thank them for the great work they do," said Keith Ward, Vice President & General Manager, Quest Diagnostics Employer Solutions.
Laboratory professionals in our drug testing facilities are there around the clock to deliver accurate, reliable test results for employers across the world. During Lab Week, we celebrate the hard work, expertise, and dedication of Quest Diagnostics heroes who wear lab coats.
Take on online tour of one of our drug testing labs in Lenexa, KS.
For more information about our drug testing labs, visit our website or contact us online.