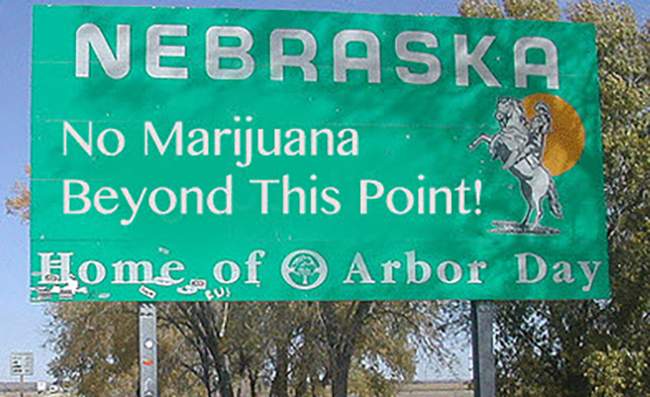 The Controlled Substances Act lists marijuana as a Schedule I drug, meaning it has no accepted medical value and has a high potential for abuse. Yet in November 2012, Colorado voters passed Amendment 64 allowing people 21 and older to consume or possess a limited amount of marijuana. This law has presented challenges for counties within the state of Colorado as well as neighboring states where marijuana is an illegal substance.
The attorneys general of Nebraska and Oklahoma are asking the U.S. Supreme Court to "strike down key parts of a 2012 voter-approved measure that legalized marijuana in Colorado for adult use and created a new system of stores, taxes, and regulations surrounding retail marijuana." The attorneys general say Colorado is violating the federal Controlled Substances Act of 1970 and is burdening law enforcement in their states. "Marijuana flows from this [state] into neighboring states," the suit says, undermining their marijuana bans, "draining their treasuries, and placing stress on their criminal justice systems."
Bordering states aren't the only government entities filing suits against Colorado. A group of county sheriffs and prosecutors have filed a lawsuit challenging the constitutionality of Colorado's amendment because it conflicts with the oaths they have taken as public servants. "I am concerned that legalizing the use of a controlled substance puts me, and all other law enforcement officers sworn to uphold the State Constitution and well as the Constitution of the United States, in a position where we are violating one to uphold the other," said Colorado sheriff Lou Vallario.
Watch this video by Mark A. de Bernardo, Senior Partner of Jackson Lewis LLP and founder and Executive Director of the Institute for a Drug-free Workplace, as he announces the challenge to Colorado's amendment.
For more information about drug testing, visit our website.