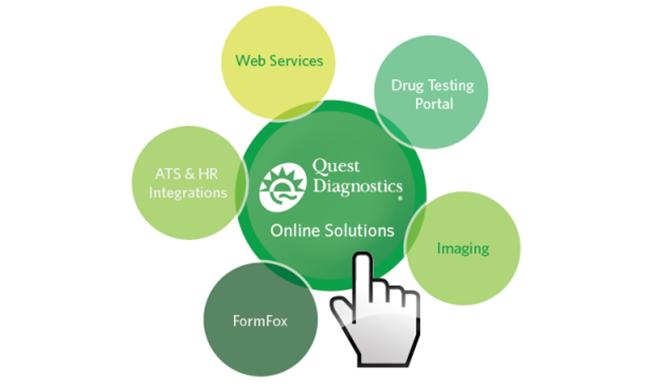 Have you ever wished that drug testing had an "easy button?" If it did, instead of manually completing all those paper order forms or interpreting faxed results, with a few keystrokes an order could be generated, with a few more, the drug test result would appear on your computer screen. While this might sound too good to be true in our manual-process, paper-driven industry, the reality is that Quest Diagnostics provides a broad suite of innovative, online solutions that streamline, automate, digitize and optimize the drug testing process.
Technology should make processes simpler to perform. With this in mind, we have dissected each step of the drug testing process from order to result, and we've developed ways to put technology solutions to work. The solutions come in many forms from easy to use online portals accessible anywhere there is an internet connection to web services or Electronic Data Interchanges (EDI). Our capabilities allow our clients to:
While some of our clients are more conservative and are thus slower to adopt online solutions, and while certain regulations continue to require paper-based, manual programs, there's little doubt that the drug testing industry as a whole will continue to evolve and embrace new technologies. Developing cutting edge solutions that allow the early majority to digitize, optimize and realize the efficiencies borne of technology, while continuing to provide traditional services for those who prefer them, is another way that we're committed to showing our clients we're there when you need us.™
For more information about drug testing, visit our website.