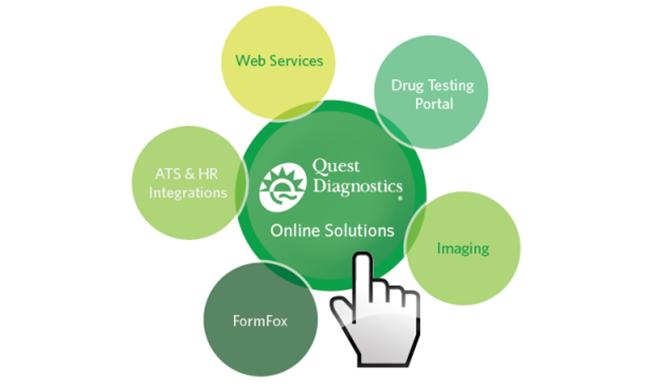 Many Human Resources professionals work in roles that extend beyond a single specialty. They may recruit, interview, check references, on-board, hire, take disciplinary actions, administer benefits and manage a drug and alcohol testing program. Along with these multiple job functions comes working in numerous systems.
At Quest Diagnostics, we have a solution that gives you a single point of access to manage your drug and alcohol testing program online. We offer a direct connection through your applicant tracking system (ATS). Similar to web services, we configure your ATS to "talk" to our systems using XML massages. Once live with an ATS integration, you can order tests, receive final results and get real-time status updates throughout the testing process.
An ATS integration requires collaboration between you, your internal IT resources, our IT team and the ATS service provider. We will discuss and evaluate your needs and then recommend one of two options for your ATS integration. First, you can select a standard integration which offers an expedited implementation  schedule. Or, you can expand your project's scope to include special requirements and programming for the unique capabilities of your organization. This option takes more time for custom development and can add costs.
This integration can help to improve your productivity and streamline your hiring and on-boarding processes. It also supports paperless drug testing using an electronic Custody and Control Form (CCF). Most importantly, an ATS integration can streamline a disjointed, multi-system drug and alcohol testing program into a single, centralized application.
For more information about drug testing, visit our website.