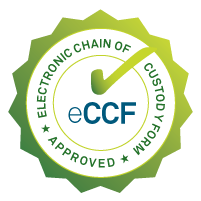 The content below highlights a number of the changes you should expect as you prepare to make the transition to electronic custody and control forms, or eCCF, for Federal drug testing from Quest Diagnostics.
One of the biggest changes is the use of the Specimen ID as the single, identifying number for all drug testing forms, images, reports, and invoices. Specimen ID replaces the numbers and barcodes, such as the requisition number and document ID, that were previously used in different phases of the drug testing process. It's important to remember the following:
A new Specimen ID is generated when a drug test is ordered using eCCF.
When a donor brings a paper CCF to an eCCF-enabled collection site, the paper form will be automatically converted to an eCCF and a new specimen ID will be generated. Employers should use the Donor ID to link donors with paper forms to their eCCF results.
The transition begins today, October 10, when nearly 200 Quest Diagnostics Patient Service Centers (PSCs) will start converting paper forms to eCCFs for regulated drug testing. The number of participating PSCs is expected to increase to 1,300+ by the end of the October.
Another important development will debut on November 1 when the Quest Diagnostics Collection Site Locator and the Employer Solutions Portal (ESP) will include Federal eCCF collections in the services listing. This feature will allow employers with regulated drug testing programs to easily pinpoint and select e-enabled collection site locations.
Finally, beginning mid-November most clients will be able to order new tests, track donor and specimen statuses, and receive result information – including the Medical Review Officer (MRO) letter – through QIS, ESP, or via our Web Services. It is important to note that when entering orders through QIS or ESP, regulated drug tests orders must have the federal testing authority selected.
Download our FAQs about eCCF or watch our eCCF video.
For more information about drug testing, visit our website.