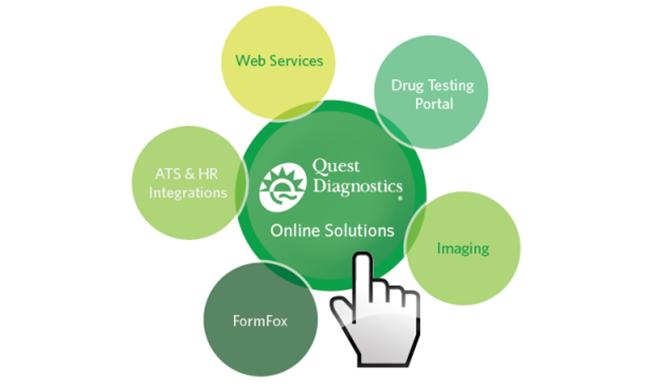 Quest Diagnostics offers the secure, online delivery of data for drug test orders, statuses, results, supplies and collection site information over the Internet using solution called Web Services. Web Services allow you to configure your IT systems to "talk" with our systems ours using XML messages. This ongoing XML dialogue enables data exchanges at speeds that allow for real-time information and transactions.
Web services can enable communication for the following:
Drug test order and collection statuses in FormFox
Drug test results from Quest Diagnostics (QTN)
Collection site data updates (partial and full)
Drug testing forms and supply orders
Once you identify a compelling need for this service, verify your organization's internal IT capabilities, you can contact us to initiate your web services project. With web services in place, you will be able to work in your own systems and applications while your transactions are automatically sent to and received from Quest Diagnostics. This continuous, back end processing reduces redundant keystrokes, minimizes data entry errors, and ensures that you always have the most up-to-date information about your drug testing program.
Web Services are another way we simplify the drug testing process and show our commitment to providing exceptional technology and service to ensure that we're there when you need us.™

For more information about drug testing, visit our website.