Week #22
One of my responsibilities is to educate people about our drug testing collection services through several outputs including webinars, newsletters and advertisements. A few weeks ago, I created an ad for our On-Site Collection Services (pictured below). It was used as a handout at the Substance Abuse Program Administrators Association (SAPAA) conference last month and was well-received.
This advertisement features our extensive nationwide network of more than 6,000 certified collectors who provide around the clock access to emergency drug and alcohol collections. With our nationwide network of more than 200 dispatch offices, our average response and collection time is less than two hours.
It also highlights our commitment to quality. We hold our collection sites and collectors to the highest standards of quality and professionalism by conducting anonymous mystery shopper collections at Patient Services Centers (PSCs) and Preferred Third-Party collection sites. We also perform audits of our mobile collection network by dispatching a trainer with the collector to help ensure that no matter where we collect the specimen, the same standardized, high quality processes are used.
This advertisement will be featured in the Fall edition of DATIA Focus, the Drug and Alcohol Testing Industry Association's magazine. Our goal is to inform employers that performing collections at the job site offers many benefits including simplified logistics and the convenience of not having to coordinate the collection process. You can visit our Collection Services website to learn more about our on-site specimen collection services.
As a new employee at Quest Diagnostics, there's hardly a day that goes by that I don't learn something new about the world of drug testing. Like some of you, I have a lot to learn about the industry. During my first year of employment, I'm going to write this weekly column highlighting drug testing procedures, products and processes as I discover them. To learn more about my journey, you can read my introductory post.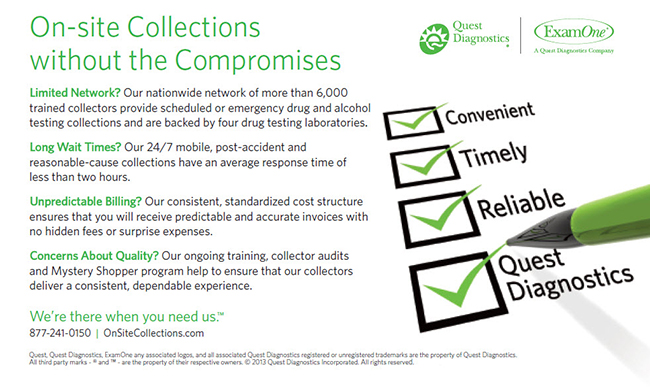 For more information about drug testing, visit our website.