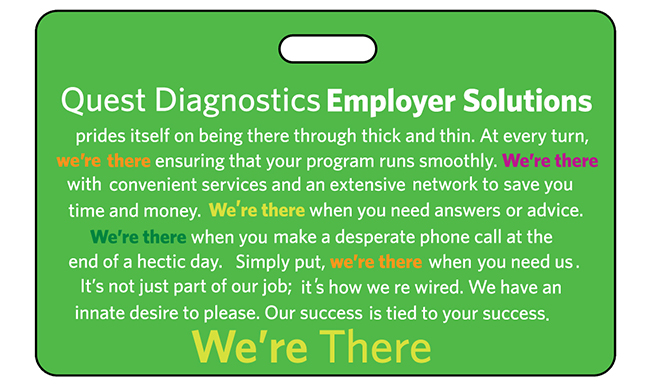 Week #51
During my educational journey this past year, I had the opportunity to meet many colleagues across several departments of our business. Throughout these months of learning, I noticed that each of these people had a story to tell of a time when they were able to help a client in need. Whether it was a customer service representative who took a phone call after hours, or a laboratory technician who worked a longer shift to process an extra specimen, each of my colleagues had an example of a time when they were there for our clients.
As the world's leading provider of diagnostic testing, information and services, we perform more than eight million drug tests every year. We also provide a comprehensive range of laboratory-based and on-site drug testing products designed to deliver fast, accurate, reliable results. But our dedication to excellence does not stop there. We believe it's not enough to simply deliver results, but instead we strive to be there for our clients through every step of the drug testing process – from the specimen collection to results reporting.
We pride ourselves on the fact that at every possible opportunity, we're there when you need us. When you look around our business, this philosophy is manifested on every team. You don't have to take my word for it. Watch a video of a Quest Diagnostics drug testing employee as they share their unique story about a time when they went above and beyond to exceed a client's expectations.
For more information about drug testing, visit our website.
As a new employee at Quest Diagnostics, there's hardly a day that goes by that I don't learn something new about the world of drug testing. Like some of you, I have a lot to learn about the industry. During my first year of employment, I'm going to write this weekly column highlighting drug testing procedures, products and processes as I discover them. To learn more about my journey, you can read my introductory post.