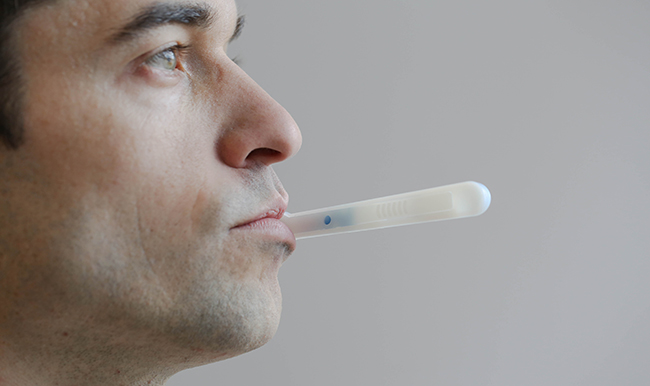 Week #44
Before I joined Quest Diagnostics, I assumed urine was the only specimen used for drug testing. But over the last 44 weeks, I learned there are a variety of specimen types and each one presents a distinct set of benefits for different drug testing programs. While urine is the industry standard for drug testing and primarily used for pre-employment screenings, oral fluid is the best option for detecting recent drug use.
Drugs take time to metabolize, to pass through a donor's system, and to show up on a urine test, and those same drugs need to grow into a donor's hair in order to be detected by a hair drug test. An oral fluid test will often detect drugs in a donor's system almost immediately after use, making oral fluid testing ideal for post-accident and reasonable suspicion drug testing programs.
Oral fluid collections require a small sample that is collected under direct supervision. This process reduces the likelihood of tampering or a donor challenge later in the screening process. Oral Fluid Collections are simple to perform and are typically conducted at the place of employment, eliminating collection fees and reducing lost productivity.
Our easy-to-use, oral fluid collection device, Oral-Eze®, provides confidential, lab-based drug test results and features a sample adequacy indicator. This blue window reduces the likelihood of the sample being rejected due to insufficient specimen quantity and thereby reduces the time and expenses associated with a second collection.
Each specimen type – urine, hair and oral fluid – presents unique advantages and can help you meet your specific program goals. Learn more about the benefits of oral fluid drug testing as you consider if detecting recent drug use is an important element of your testing program.
For more information about drug testing, visit our website.
As a new employee at Quest Diagnostics, there's hardly a day that goes by that I don't learn something new about the world of drug testing. Like some of you, I have a lot to learn about the industry. During my first year of employment, I'm going to write this weekly column highlighting drug testing procedures, products and processes as I discover them. To learn more about my journey, you can read my introductory post.