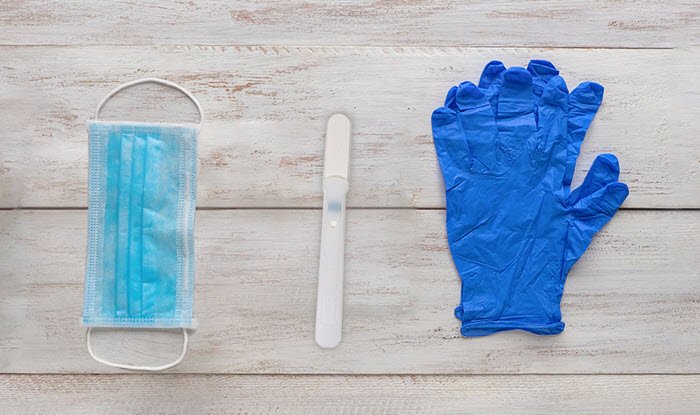 Even as the novel coronavirus pandemic has dramatically impacted the workplace, many employers continue to promote drug-free workplace programs, especially when relied on for essential services. Quest Diagnostics is on the front lines connecting people to test results for COVID-19, as well as providing nationwide access for workforce drug testing.
A common question during this health crisis centers on the safety of administering an oral fluid drug test. Both donors and collectors share concerns about close contact because of the collection process for this test type. As a result, a collection at a Quest Diagnostics Patient Service Center (PSC) will be notably different as sites have implemented enhanced safety measures during COVID-19.
Collector personal protective equipment (PPE)
Collectors must fully button up their lab coats and wear gloves and face shields as a first line of defense during drug test collections. PPE for a collector should always cover both the nose and mouth. Additionally, it is critical to clean and sanitize the collection area before and after every drug test.
View our Personal Protective Equipment (PPE) protocol guide for Quest collection sites.
Oral fluid drug testing
Oral fluid (saliva), which is secreted by the salivary glands of the mouth, can be used to screen for drugs and is typically collected using a wand with an absorbent pad. When performing an Oral-Eze® drug test, the donor is instructed to pool saliva into his/her mouth and guide the wand into the mouth (between the cheek and gum). The donor then directs saliva to the pad. Once the sample adequacy window of the turns blue, a sufficient amount of oral fluid has been collected for testing at the laboratory.
Learn all about drug test collections during the COVID-19 emergency.
Testing at Quest PSCs
Effective April 20, 2020, an individual visiting a Quest PSC for an appointment, such as an oral fluid drug test, must wear a face covering such as a bandana, scarf, or handmade mask.
Upon entry at a PSC, a no-contact forehead temperature check completed on every visitor. The Centers for Disease Control and Prevention (CDC) considers a person to have a fever when he or she has a measured temperature of 100.4 °F (38 °C) or greater, or feels warm to the touch, or gives a history of feeling feverish. If presented with a donor who is at risk or experiencing any symptoms of the novel coronavirus, inform the donor to follow up with a physician and reschedule the drug test.
Consider similar precautions if you are providing on-site oral fluid collections at your workplace. Encourage people to arrive just in time for their drug test, consider signage for directional flow, and space out chairs for social distancing if you offer any sort of waiting area.
Observed drug test collections
An oral fluid drug test is collected under direct supervision. Because collections are observed, it is considered a tamper-resistant screening method because it's difficult for a donor to cheat. Many oral fluid collections are conducted at the workplace by an employer, eliminating the need to visit a physical site.
An on-site oral fluid collection can still be observed using social distancing guidelines with a collector standing a minimum of 6 feet away from a donor. If the donor is wearing a face mask, the collector can ask the donor to remove the mask to verify their photo ID at the start of the drug test and to display the inside of the face mask (similar to a request to display the contents of someone's pockets).
Sometimes an oral fluid drug test is referred to as a donor-driven or self-driven collection. That means that the donor can execute the steps in an oral fluid collection with instructions from the collector, which are verbally given while observing the test.
Oral fluid continues to be an accurate, reliable way to detect recent drug use, especially marijuana. As Employer Solutions continue to complete oral fluid drug testing across the country, we adhere to rigorous safety procedures, social distancing, handwashing, and cleaning routines to help minimize risk for our collectors, employees, and donors.
Read our oral fluid drug testing FAQs.
For more information about drug testing, contact us online or visit our website.