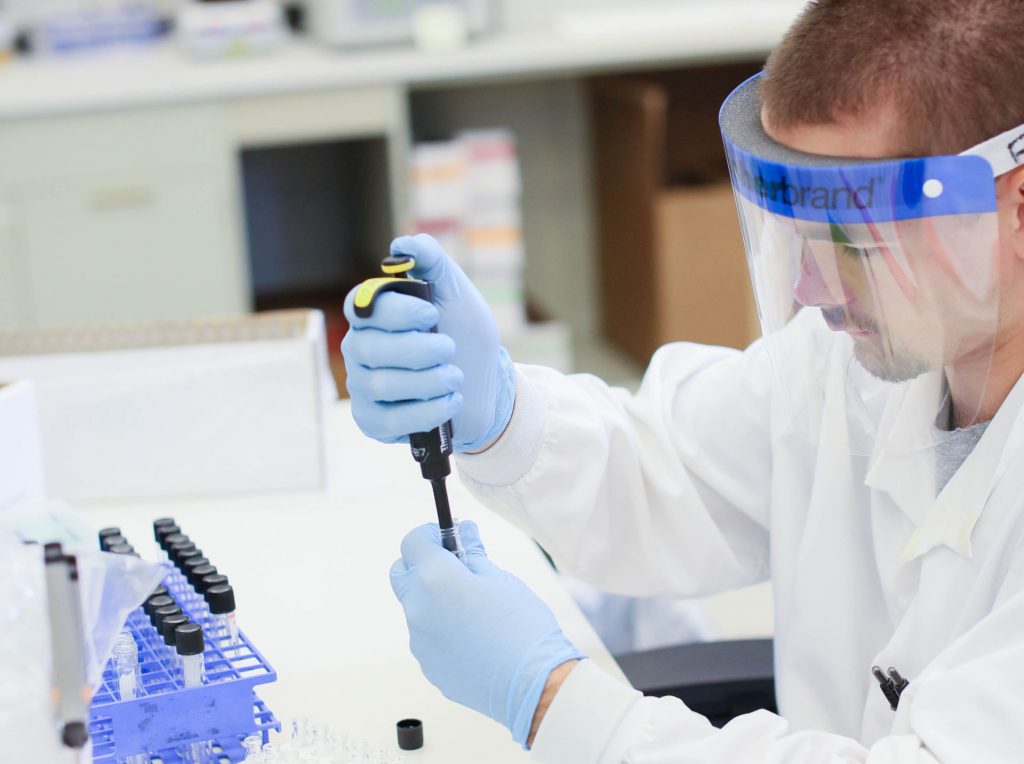 Effective April 20, 2020 when visiting a Quest Diagnostics Patient Service Center (PSC) for a drug screen collection, you must wear your own mask/face covering such as a bandana, scarf, or handmade mask. (Quest cannot offer mask/face coverings due to limited inventory.) This is a new requirement in addition to a no-contact forehead temperature check upon entry. According to the Centers for Disease Control and Prevention (CDC) the use of face coverings may help slow the spread of COVID-19.
The outbreak of respiratory illness caused by the novel coronavirus (COVID-19) continues to change daily life. The American public is experiencing restrictions to routines ranging from statewide stay-at-home orders to the closing of nonessential businesses. As the world leader in diagnostic information services, Quest is committed to fast action on emerging health threats for which laboratory testing can provide critical insights to aid in response. We are committed and diligently engaged to help while promoting safety in our processes and procedures, including our workplace drug testing collection sites.
Is Quest Diagnostics still completing drug tests?
Yes. Quest Diagnostics Patient Service Centers (PSC) are open and operational. Respiratory specimens are never collected at our PSCs, including specimens for COVID-19 testing. Our vast network is proceeding with drug test collections using our standard safety protocols while diligently following all best practices set by the Centers for Disease Control and Prevention (CDC).
What safety measures are Quest collection sites taking during COVID-19?
We understand the apprehension that may come from visiting any location right now, especially with the emerging importance of social distancing. Again, no COVID-19 testing takes place at our PSCs and patients seeking COVID-19 testing are being asked not to enter our PSCs.
As a healthcare company, we are especially aware of the critical role that good hygiene practices play as we continue to operate our facilities across the nation and we take these measures seriously. Our locations are open for your employees, whether they are completing tests to qualify for your workplace program incentives or taking care of other health matters.
Rigorous safety procedures are in place across our company to protect donors and employees from coming in contact with infectious diseases.
Daily cleaning routines have increased, including frequent disinfecting of all surfaces, use of hand sanitizer, and more frequent hand washing.
Taking into account potential service interruptions, we encourage individuals to check our website locator in advance of a PSC drug test appointment to confirm the hours of operations.
Additionally, the first hour of every day in our Quest PSCs is reserved for the most vulnerable individuals: those who are 60 years of age or older, or have other conditions that put them at greater risk for COVID-19.
View our Personal Protective Equipment (PPE) protocol guide for Quest collection sites.
More than ever before, we're there when you need us at the end of a hectic day, when you need answers, or just need to talk. Although a drug test may not be top-of-mind in these unprecedented times, a safe workplace is. Drug-free workplace programs are a key measure to continue to help to ensure the safety of our roads, airways, railways, and store aisles.
We're committed to bring you insights, resources, and the latest information about how employers like you can continue to maintain a drug-free work environment during this emergency and into the future.
Our customer service team is available to support your alcohol and drug testing program at: EmployerSolutions.com/support.
Additional information regarding the Quest Diagnostics response to COVID-19 can be found at: QuestDiagnostics.com/home/Covid-19/.
To learn more about drug testing, visit our website or contact us online.
---