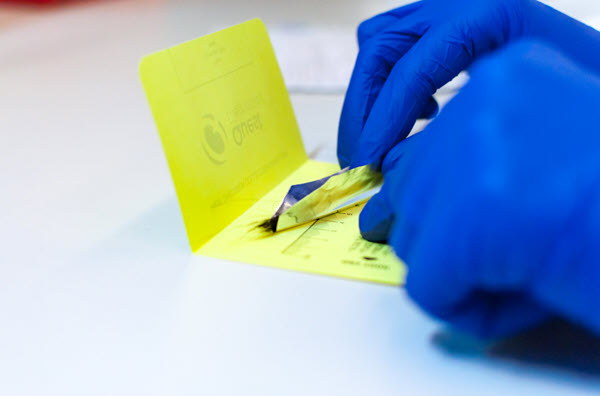 Hair testing provides up to a 90-day detection window for repetitive drug use patterns, helping to identify habitual and periodic drug use. It acts as a powerful deterrent to drug abuse, and often yields higher positivity rates when compared to urine or oral fluid testing.
What drugs are tested in a hair test?
Quest Diagnostics tests for amphetamines (amphetamine, methamphetamine, MDMA and MDA), cocaine, marijuana, opiates, oxycodones, and PCP.
When should we choose a hair drug test?
A hair test is an excellent option for pre-employment and random testing programs. Because hair testing detects a pattern of repetitive drug use over a longer period, usually up to 90 days, it is not well-suited for situations when a drug test result is needed as close as possible to the time an incident occurs.
How is a hair drug test collected?
A trained collector cuts approximately 100-120 strands of hair from the crown of the donor's head. The hair is cut as close to the scalp as possible, so only the strands of hair above the scalp are tested and not the actual hair follicle.
How much hair is cut in a hair drug test?
A Quest drug screen usually requires a cosmetically undetectable lock of hair, preferably snipped from the back of the head, just below the crown. In general, the amount needed equates to a single row of hairs approximately one (1) centimeter wide.
Can products and treatments affect a hair drug test result?
We asked Dr. Barry Sample, Senior Director of Science and Technology, Quest Diagnostics, to better explain the potential effects of products and treatments to a hair drug test. He explained:
When shampoos, sprays or gels were applied to cut hair samples, they had little or no effect on positive or negative hair specimens.
When normal hair treatments, including bleaching or dyeing, were applied to cut hair samples, they typically did not interfere with test results.
When tested under worst-case scenario conditions, most treatments had minimal or no impact on test results for the majority of drugs. When there was an effect, screening absorbance readings became more negative for positive hair specimens, and slightly more negative for the negative samples.
Can you cheat a hair drug test?
Hair testing collections are observed, meaning a collection can only be performed at a collection site, and performed by a collector, therefore reducing the likelihood of tampering or adulteration by a donor.
Is there a difference between hair drug testing and hair follicle drug testing?
Yes, calling a hair drug test a hair follicle drug test is a common misnomer, according to Jarod Rowland, a scientific expert in our Lenexa, Kansas hair drug testing laboratory. The hair follicle is the pocket, below the scalp, from which the hair strand grows. During a hair drug test collection, the hair is cut as close to the scalp as possible, only the hair above the scalp is tested, not the follicle. True hair follicle testing requires the hair be "plucked" rather than cut which can lead to extreme donor discomfort.
Summary
Many industries choose hair testing to help identify habitual and periodic drug use by job applicants and employees, especially in safety-sensitive positions. Hair testing, like all drug testing methodologies, helps to mitigate risk and increase workplace safety.
To estimate your return on investment from a random drug testing program, use our Drug Testing Savings Calculator.
Read more frequently asked questions about hair drug testing.
For more information about drug testing, visit our website or contact us online.
---
Sources:
Ask the experts: Hair testing vs. hair follicle testing Quest Diagnostics. April 27, 2021. https://blog.employersolutions.com/ask-the-experts-hair-testing-hair-follicle/

Ask the experts: Effects of hair treatments on drug test results, Quest Diagnostics. June 27, 2016. https://blog.employersolutions.com/effects-of-hair-treatments-on-drug-test-results/