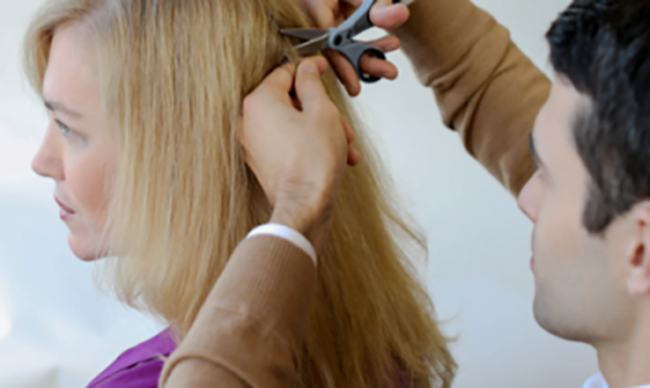 Hair drug testing expands the detection window of drug use for up to 90 days. Due to its observed collection, a donor's efforts to prepare for or cheat a hair drug test are largely ineffective. Here are a few of the most commonly asked questions about hair testing.
Will the test results from a hair test reflect drug use over the past 90 days?
Yes. Hair follicles underneath the scalp are surrounded by a dense network of capillary blood vessels. Drugs in the bloodstream are able to incorporate and bind to the hair follicles underneath the scalp. It takes approximately 5 to 10 days for hair containing drug to reach the outer environment on top of the scalp to be collected based on the average rate of head hair growth. Head hair grows approximately 1.3 centimeters or a ½ inch per month. The standard length of hair tested by the laboratory is the first 3.9 centimeters or 1½ inches from the root end. Therefore, a hair analysis of 3.9 centimeters covers a time span of approximately 90 days and detects a pattern of drug use over this time frame.
What is the difference between hair testing and hair follicle testing?
Calling a hair test a hair follicle test is a common misnomer. The hair follicle is actually the pocket, below the scalp, from which the hair strand grows. During a hair drug test collection, the hair is cut as close to the scalp as possible, so only the strands of hair above the scalp is tested and not the actual hair follicle. True hair follicle testing requires the hair to be "plucked" rather than cut which can lead to extreme donor discomfort.
How much hair is cut for a hair drug test?
Quest Diagnostics standard screen usually requires a cosmetically undetectable lock of hair preferably snipped from the back of the head, just below the crown. In general, the amount needed equates to a single row of hairs approximately one (1) centimeter wide.
Can a hair test be performed on a person with little or no hair?
Yes. If a donor has little or no hair, hair can be collected from various locations and then combined. However, head should not be mixed with body hair—eg, it is acceptable to combine hair collected from various locations on the scalp but not from the scalp and leg.
Can a donor cheat a hair test?
We have not found any adulterants that can beat a hair drug test at this time. Moreover, the risk is minimized because every hair drug test collection is observed.
What is the positivity rate for drug tests using hair?
The Quest Diagnostics Drug Testing Index™ (DTI) offers insights into trends in workforce drug drug use based on positivity results for de-identified laboratory testing for a range of illicit, legal, and prescription drugs. In 2019, the latest DTI data available, overall positivity rate for hair drug testing was 11.2% for the general U.S. workforce.
Watch an on-demand recording of our Back to basics: Hair drug testing webinar.
For more information about drug testing, visit our website or contact us online.
Updated March 9, 2021