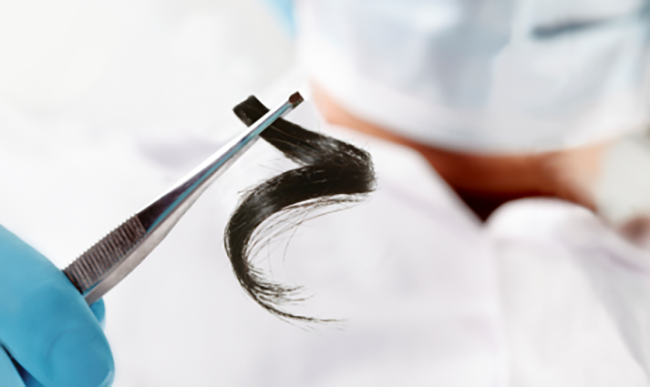 Risk and opportunity are linked, but maybe not in the way you think. Because with hair testing, the elimination of risk is the opportunity.
It's standard for companies of all sizes to require drug testing of applicants and employees. And with good reason, as drug use links to productivity losses, accidents, injuries, and more. But the type of drug test matters just as much as the fact that you test. For companies interested in checking for recent usage—say the past few days—oral fluid or even urine testing is a good and reliable way to do it. In fact, 90%[1] of companies rely on urine tests. But for those who want to dig deeper, we suggest hair testing.
With up to a 90-day look back in time, hair testing does what no other type of drug test can: it identifies long-term, habitual use, and there's no practical way to hack it.
For most drugs, urine and oral fluid testing's window of detection hover between a few hours and a few days. But with hair testing's ability to look back up to 3 months, you'll discover a long-term story—and nearly twice as many positive instances. Think about how many people could be putting your company at risk right now because you're not seeing a longer window of potential drug-use.
Hair testing is also hard to cheat because you aren't allowing employees to self-collect in private. Instead, a small snippet of hair gets clipped by a professional who adheres to our strict chain of custody requirements. That means the collection process and hair drug test capabilities each reduce risk and increase confidence. So, you get two valuable outcomes from a single, simple decision.
Is hair testing right for you?
Because safety is paramount, when you have equipment capable of causing damage, injury, or death—or people in significant contact with the public—you need to be sure your employees are at their best. Hair testing's long look into the past is your assurance. That's why it makes sense for so many high-risk organizations: transportation, security, law enforcement, and military, manufacturing, petrochemical, and electric energy, even schools and universities.
Turn to Quest Diagnostics
Surprise! We think you should trust us for your hair testing needs. But with good reason: we're the only SAMHSA certified and CAP-FDT accredited lab to offer in-house testing for oral fluid, urine, and hair tests. That's all 3 of the most popular workforce drug test types, which means you can handle all your testing with one relationship. Our new hair test panels cover all the drugs you care about—and are ready for emerging federal regulations for cutoffs. We have a network of almost 10,000 convenient, professional collection sites. And we offer a team of testing experts who can help design exactly the right solution for you at the right price.
Don't accept the risks of not having a long enough view into the past, or drug testing companies that can't reduce risk and complexity. Step into the way-back machine with us and build an even brighter future.

To learn more about hair drug testing, visit our website or connect with us online.
---
[1] Maurer, Roy, "Hair, Saliva or Urine – Which Is Best for Drug Testing Job Candidates?", Society for Human Resource Management (SHRM), Web, 2018