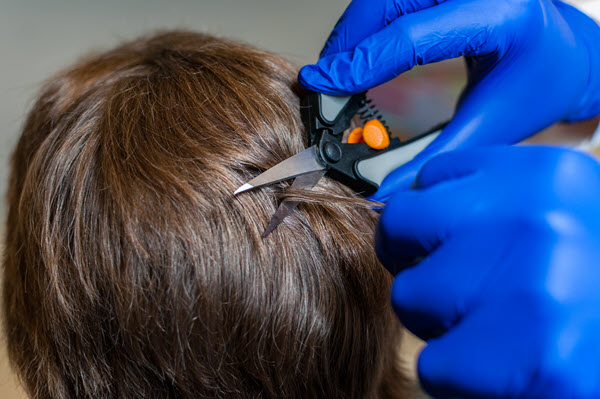 There are drug testing types available for various reasons and situations, but only one offers a window of drug detection yielding 90 days of historical drug use. Often referred to as a lifestyle test, a hair drug test is tough to cheat because a small piece of hair is cut during an observed collection.
There are drug testing specimen types available for various reasons and situations, but only one offers a window to see a pattern of repetitive use for up to 90-days. Often referred to as a lifestyle test, a hair drug test is tough to cheat because the collection is observed.
For the transportation industry, urine is the required specimen when conducting a Federally mandated drug test for multiple testing reasons, from pre-employment to random drug testing. However, for years several large motor carrier companies have worked to get an exemption to allow hair testing for pre-employment drug testing citing its reliability and accuracy. Industries not mandated to follow U.S. Department of Transportation (DOT) guidelines choose hair drug testing to gain a longer look into if an employee used drugs.
Hair drug testing 101
The already long window of detection is established. This drug test also helps to screen for multiple drugs like amphetamines, cocaine, marijuana, opiates, oxycodones, and PCP. Because of its detection window, hair drug testing often yields higher positivity results when compared to urine or oral fluid. The longer look at repetitive drug use patterns plays a major role.
Discover what you need to know about hair drug testing.
Drug use in the transportation sector
When analyzing hair drug testing trends in the general workforce, data from the Quest Diagnostics Drug Testing Index™ showed that in 2018 cocaine positivity declined nearly seven percent in urine and more than 19 percent in oral fluid testing, but increased slightly year-over-year (6.3%) in hair testing.
Further analysis offers industry insights in the general U.S. workforce, where urine drug test results shows year-over-year double-digit increases in workplace drug positivity in six of the 17 industry sectors reported. The transportation and warehousing sectors experienced the largest increases with 34.5% between 2015 and 2018.
Download the Industry-specific workplace drug testing data brochure.
The FAST Act
Although the transportation industry follows DOT guidance to use only urine drug test specimens, that is changing. In 2015, the Fixing America's Surface Transportation Act (FAST Act) initiated funding to help states with important transportation-related projects from highways to transit lines. Part of the FAST Act includes provisions related to hair drug testing and drug-free commercial drivers. The regulatory action has not taken effect. Once HHS has established scientific and technical guidelines for hair, the Federal Motor Carrier Safety Administration (FMCSA) can start the process of making hair drug testing an acceptable alternative to urine drug tests.
Find out why Brazil enacted a mandatory hair drug testing for its professional drivers.
Combining drug test types
As with any drug test type, hair drug testing can be combined with other specimens as part of a comprehensive collection profile based on the roles of a company. For example, an employer may select hair for pre-employment drug testing, oral fluid for random drug testing, and urine testing for post-accident or reasonable suspicion testing based on state law and policy limitations. A combined approach allows an employer to better match the specimen type suited to the testing situation, ultimately helping to enhance the safety of the workplace.
Discover the return on your investment when implementing a workplace drug test program.
Summary
Hair drug testing can be beneficial to any drug-free workplace program but could also prove helpful to industries with safety-sensitive and customer-facing employees. Companies should consider the benefits of hair drug testing and its ability helping to identify habitual drug use. In a time when Americans rely more on truckers, transportation operators, and essential workers, it is crucial to help make these mobile workplaces safe and drug-free.
To learn more about hair drug testing, visit our website or contact us online.