Oral-Eze® from Quest Diagnostics now includes testing for oxycodones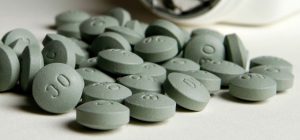 New research from the American Action Forum reported that nearly 1 million people, ages 25 to 54 years old, were absent from the workforce because of a dependency on opioids, between 1999 and 2015. The corresponding impact on the labor force equated to a cumulative loss of 12.1 billion work hours.  Additionally, researchers estimate that the economic burden of prescription opioid misuse in the U.S. totals $78.5 billion. This data illustrates that the opioid epidemic extends beyond a public health crisis and takes a significant toll on the U.S. economy.
Typically, an individual receives an opioid prescription, such as OxyContin, from a doctor following an injury or surgery. The Centers for Disease Control and Prevention (CDC) indicates that opioid prescribing rates remain high in our country; the overall rate was 66.5 prescriptions per 100 people in 2016. Misuse occurs when a person takes the medicine other than prescribed, takes someone else's pills, or takes the medicine to get high.
Drugs like oxycodone carry a high potential for dependence and addiction. According to Pain, approximately 21% to 29% of patients who are prescribed opioids for chronic pain misuse them and 8% to 12% become addicted. Sadly, the most recent data from the National Survey on Drug Use and Health estimates that 8.4 million adults aged 26 years or older have misused opioids in the past year. This age group represents the majority of employees in today's workforce.
As employers face the opioid epidemic, many are concerned about hiring drug-free, qualified workers, employee turnover, productivity levels, absenteeism, and costs for healthcare and workers' compensation. Several options exist to help combat these challenges, such as refining a substance abuse policy to specifically address opioids, training supervisors to identify early signs of drug misuse, offering help in the form of employee assistance programs (EAP), and adding opioids to a workplace drug testing program.
Companies can test for the most commonly abused opioids using an oral fluid drug test. Primary benefits of oral fluid testing include excellent detection of recent drug use, an observed collection, and the accuracy that comes from a laboratory-based drug test. This strategy can help to filter out drug users and maintain a safe, healthy workplace.
Read our frequently asked questions and talk to your Quest representative about an expanded opiates test panel in Oral-Eze that tests and confirms for oxycodone, oxymorphone, hydrocodone, hydromorphone, 6-AM (heroin), codeine, and morphine.
To learn more about drug testing, visit our website  or contact us online.
---