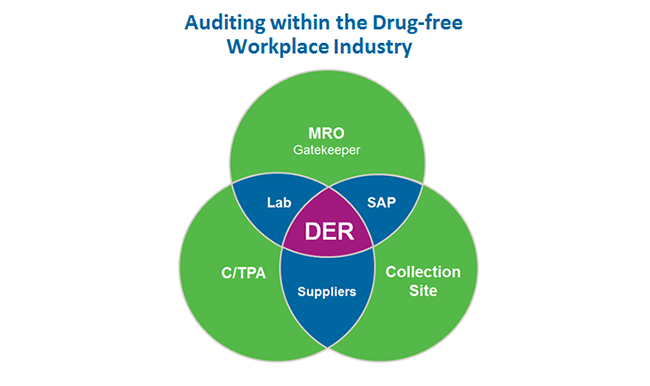 Understanding what inspectors are looking from their perspective is critical as you prepare for an audit of your federally regulated drug and alcohol testing program. While the list of required documentation can be cumbersome and the process is time-consuming, as Lisa Ruehle, Compliance Specialist, explained in our webinar, "Audits force us to take the time to look at our processes and identify gaps that we can close."
We answered several questions during the presentation, but here are some common questions as well as links to some valuable resources.
How do I get organized for an audit?
Your records tell a story by tying together key dates and supporting documents. If you maintain your files with this in mind, you will know whether or not your company is in compliance long before an audit. The details are critical.
Find a useful, published checklist to keep you 'audit ready' year round. Many times the auditor will provide a list of required records.
You could organize your documents by test reason, employee with safety-sensitive duties, SubPart O, positive drug and alcohol test results, 40.25 records requested, refusal to test and cancelled tests.
Keep pre-employment files for three years and file according to the date of hire or color code by year.
Keep positive drug and alcohol results along with the test reason for 60 months in paper or a digital form that can be printed. Also, document how you followed the company policy in each instance of a positive.
Maintain drug-free workplace program training information for employees and supervisors.
What are some tips for auditing a collection site?
Take a conversational approach and spend time on procedures, regulations and company requirements the first time you audit your collection site. Here are some other considerations beyond the basics.
Does an employee have a lengthy wait at the collection site? Check for yourself and perform a mock collection.
Does the collection site maintain specific information about your company and access it regularly? For example, confirm that the site has contact information for the DER on file in case of a positive test result.
Does the donor have the required privacy?
Are the specimens and paperwork maintained is a secure area?
Are training certificates available to view and are there indications of ongoing training?
What are some tips for auditing a Consortium/Third Party Administrator (C/TPA)?
Regulations expect employers to hold their service agents accountable. You will want to check that a C/TPA is meeting your expectations, executing the random pool selection process impartially, staffing with personnel who know and perform their duties within regulatory requirements, and following the practices and procedures to support your program. Also, verify that the appropriate liability insurance and documentation of files is in place.
How do you handle an experience with an inspector that applies the regulations differently than a previous inspector from a prior audit?
Auditors are people too. They are all not the same which means the process and rule interpretation is not always consistent. Keep in mind that the questions and comments they posed are ultimately geared to better understand your program. And, if there's a question, always default to the regulations.
How do I stay current on new regulations?
There are a number of online resources available from various agencies including the Office of Drug & Alcohol Policy & Compliance (ODAPC). The Federal Aviation Administration (FAA) provides two useful documents: FAA Drug Abatement Program Inspection Guide and FAA Records For Inspection. The Federal Transit Authority (FTA) published common compliance issues in its newsletter. The U.S. Department of Transportation (DOT) authored a helpful, comprehensive guide about what employers need to know about DOT drug and alcohol testing. In addition, you can see information on each modality on the ODAPC website and also sign up for ODAPC email updates online.
Watch a recording of this webinar or other webinars presented by Quest Diagnostics.
For more information about drug testing, visit our website.