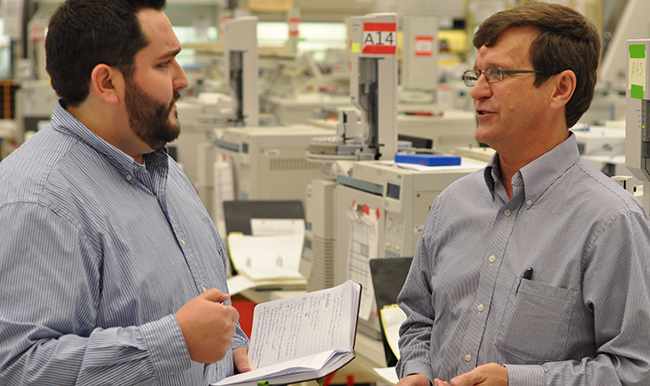 Week #29
Bloomberg Businessweek provides information and interpretation about current events in the business world. Last week, Dr. Barry Sample, Director of Science and Technology at Quest Diagnostics, was interviewed for an article in Bloomberg BusinessWeek entitled "Advice for Small Employers Testing New Hires for Drugs." The article highlighted the benefits of drug testing employees for small businesses. After reading the article, I scheduled some time to connect with Dr. Sample to ask him a few of my own questions about drug testing and small businesses. Here's what he had to say:
Why is small business drug testing so prevalent in the news lately?
Many large corporations have had drug testing programs in place for years and now it seems as though more and more small and medium sized companies are following suit as they look for ways to save money to keep their workplaces safer and drug-free.
Are these smaller companies at greater risk for attracting drug users?
According to data from the Substance Abuse and Mental Health Services Administration (SAMHSA), self-reported drug use rates are almost twice as high at smaller companies when compared to corporations with 500 or more employees. Job seekers know that large companies are drug testing their job candidates and employees, and as such drug users tend to apply for jobs with smaller companies who don't have a drug testing program.
How does state legislation in marijuana legalization affect small employers?
It really doesn't. Marijuana is still considered a Schedule 1 drug according to the Federal Government and, in their testing programs, 'medical marijuana' is not considered an alternative medical explanation for Medical Review Officers (MROs). As a part of their drug testing policy, and in the majority of situations, employers may still test for and take disciplinary action against employees who test positive for marijuana – 'medical', 'legal' or otherwise. Of course we always recommend that an attorney, licensed to practice law in their state, review the employer's drug testing policy.
Can smaller businesses afford a drug testing program?
I think you are asking the wrong question. What you should be asking is, can small businesses afford NOT to drug test their employees? Sure, there is a cost to developing a drug-free workplace program, but analysis from our Drug Testing ROI Calculator™ shows that drug testing returns its investment. Testing programs help to deter drug using applicants and employees. As a result of employing fewer drug users, businesses of all sizes can expect to see fewer accidents, less absenteeism, a reduction in workers' compensation claims, improved productivity and ultimately savings to the bottom line. When an employer also factors in the workers' compensation benefits that many states extend to employers with a drug-free workplace program, the ROI could be even greater.
Dr. Sample is one of the foremost authorities on workplace drug testing and I'm privileged to have him as a resource as I learn more about the nuances, intricacies and benefits of drug testing. Contact us to learn more about setting up a drug testing program for your businesses.
For more information about drug testing, visit our website.
As a new employee at Quest Diagnostics, there's hardly a day that goes by that I don't learn something new about the world of drug testing. Like some of you, I have a lot to learn about the industry. During my first year of employment, I'm going to write this weekly column highlighting drug testing procedures, products and processes as I discover them. To learn more about my journey, you can read my introductory post.