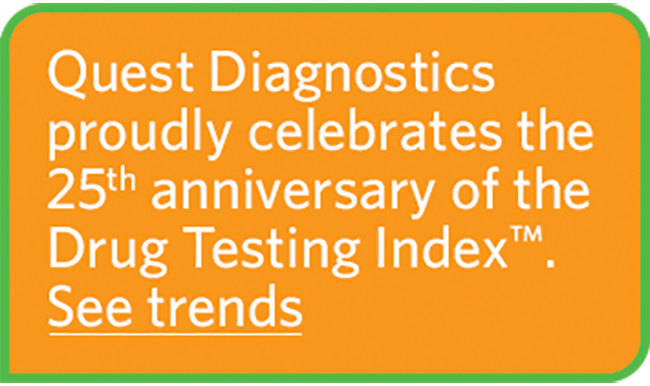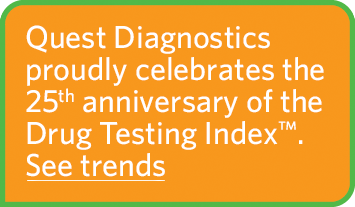 Week #30
I typically have a 'go-to' for informational resources. If I want to read U.S. or world news, I have a certain phone application I like to use. If I want to know the five-day forecast, I have a favorite website that I visit. I use these favorite resources because I can trust the information is accurate and up-to-date. Similarly, the drug testing industry has a 'go-to' report for drug use trends and information.
The Quest Diagnostics Drug Testing Index™ (DTI) is an essential resource which has been considered a benchmark for drug testing industry trends since its inception in 1988. It examines positivity rates to provide a comprehensive analysis of workplace drug use trends among federally mandated, safety-sensitive workers, the general U.S. workforce and the combined U.S. workforce. When it comes to understanding historical patterns of drug use among American workers, the DTI is the industry standard.
Last week marked the 25th anniversary of the DTI which has analyzed more than 125 million workplace urine drug tests. The most recent DTI data reported an overall positivity rate of 3.5 percent for urine workplace drug testing in 2012, with marijuana still holding the top spot as the most commonly detected drug. Oral fluid positivity for the general U.S. workforce was reported at 4.2 percent in 2008, rising to 5.5 percent in 2012. The data also showed a greater detection of marijuana use using oral fluid with a positivity rate of 4 percent for 2012, increasing from 2.7 percent in the previous year. In addition, the general U.S. workforce positivity rate for hair testing in 2008 was 7.8 percent and decreased to 5.6 percent in 2012.
The Drug Testing Index has been the industry's 'go-to' report on drug use trends for more than 25 years. People can trust that the information is accurate and reliable and that's why we've provided this useful data and information for a quarter of a century.
For more information about drug testing, visit our website.
At Quest Diagnostics, there's hardly a day that goes by that I don't learn something new about the world of drug testing. Like some of you, I have a lot to learn about the industry. During my first year of employment, I'm going to write this weekly column highlighting drug testing procedures, products and processes as I discover them. To learn more about my journey, you can read my introductory post.