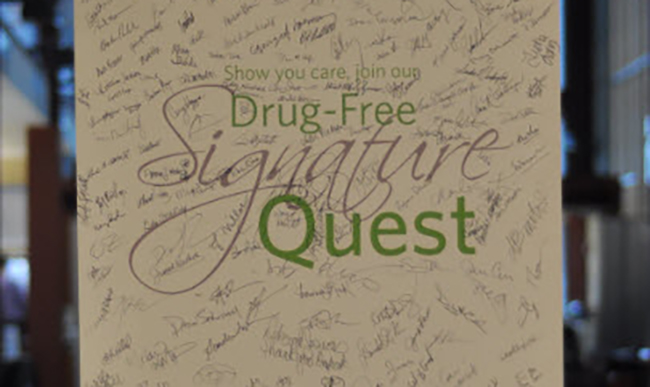 Week #31
We not only help employers build drug testing programs, but we also support other organizations that share the same goal – to make workplaces safe by deterring drug use. In 2013, we embarked on a Signature Quest, traveling to conferences and trade shows around the country to collect signatures from attendees. For each signature we collected, we pledge to contribute a monetary donation in support of drug prevention and awareness programs.
A few months ago, I had my first opportunity to see this campaign in person at the annual Substance Abuse Program Administrators Association (SAPAA) conference – whose mission is to establish, promote and communicate the highest standards of quality, integrity and professionalism in the administration of workplace substance abuse prevention programs through education, training and the exchange of ideas.
At this conference, similar to most events, we gave out notebooks, highlighters and Sharpies and positioned one of our banners so attendees could sign it with their giveaway. For everyone who took a Sharpie, I explained our Signature Quest campaign and asked them for their autograph. Everyone was happy to participate and thought it was a great way to get people involved in supporting drug-free organizations.
Last week, I gathered the banners together and counted all the signatures. We collected almost 1,000 autographs from this campaign. We are excited to match each signature with a donation later this month. Giving back is one more way we're there when you need us.
For more information about drug testing, visit our website.
As a new employee at Quest Diagnostics, there's hardly a day that goes by that I don't learn something new about the world of drug testing. Like some of you, I have a lot to learn about the industry. During my first year of employment, I'm going to write this weekly column highlighting drug testing procedures, products and processes as I discover them. To learn more about my journey, you can read my introductory post.