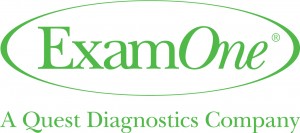 Week #10
Having only been with Quest Diagnostics for 10 weeks, I'm continually meeting new colleagues. As I get a chance to talk with new folks, I always seem to learn something new. As it turns out, the drug testing business isn't the only business that operates in our Quest Diagnostics office in Lenexa, Kansas. There are actually four unique businesses – Employer Solutions, ExamOne, Wellness and Clinical. Last week, I had the opportunity to meet with Rick Kingcade, Business Development & Strategic Planning Director for the ExamOne business. ExamOne is a leader in risk assessment testing for life insurance companies and offers a comprehensive suite of services to the insurance industry including laboratory testing, paramedical exams, electronic data collection, medical records retrieval and more. Here are a few of ExamOne's products which set them apart from other paramedical exam companies:
ExamOne has provided a portfolio of services to the insurance industry for more than 40 years, and as such has a great deal of understanding about the needs of life, health and disability insurance providers and their customers. They've also got a unique and personal focus in that they're committed to putting applicant's first. Visit their website to learn more about Quest Diagnostics' insurance business – ExamOne.
For more information about drug testing, visit our website or contact us online.
As a new employee at Quest Diagnostics, there's hardly a day that goes by that I don't learn something new about the world of drug testing. Like some of you, I have a lot to learn about the industry. During my first year of employment, I'm going to write this weekly column highlighting drug testing procedures, products and processes as I discover them. To learn more about my journey, you can read my introductory post.