Week #9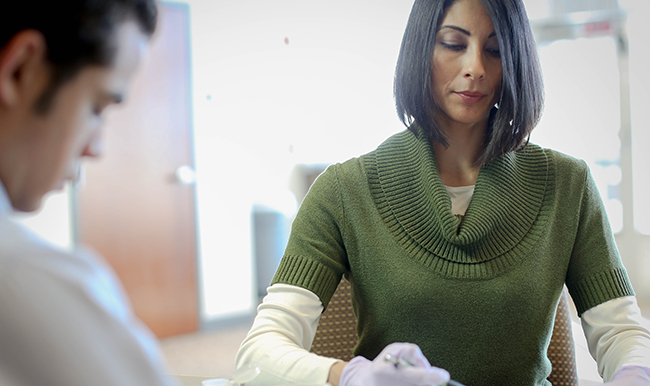 Nine weeks ago, in my initial blog post, I mentioned that the only exposure I have had to the world of drug testing was the pre-employment screening I took to get the position here at Quest Diagnostics. While I was at the collection site, I was so excited about starting my new job that I really didn't pay much attention to the collection process. Last week, I visited a Quest Diagnostics Patient Service Center (PSC) and a preferred third-party collection site to learn a bit more about the collection process.
Consistent quality is extremely important. No matter where we collect your donor's specimen, whether on-site or at a collection site, the same standardized processes are used from collection to result reporting. Strict chain of custody procedures are also used every step of the way to help ensure the integrity of your specimens and test results. We hold our collection sites to the highest standards of quality by conducting anonymous collection audits through our Mystery Shopper program.
On my way into the office, I pass three Quest Diagnostics collection sites. Our national network is so broad that I bet you're never more than a few miles away from one of more than 6,000 collection sites in our drug testing network, including more than 1,000 company-owned and operated Patient Service Centers and more than 1,000 preferred third-party collection site locations. We offer a wide variety of specimen collection options including urine, hair, and oral fluid, making drug testing simple for your company and more convenient for your employees and applicants.
If for some reason you can't find a collection site, with Quest Diagnostics, you have around-the-clock access to our nationwide network of on-site collectors who provide mobile, 24/7 emergency collections.
We understand the need for comprehensive, turn-key collection services that not only meet your drug testing needs, but also seamlessly integrate with your business. Review our case study to find out how Quest Diagnostics can manage the entire collection process from beginning to end.
For more information about drug testing, visit our website.
As a new employee at Quest Diagnostics, there's hardly a day that goes by that I don't learn something new about the world of drug testing. Like some of you, I have a lot to learn about the industry. During my first year of employment, I'm going to write this weekly column highlighting drug testing procedures, products and processes as I discover them. To learn more about my journey, you can read my introductory post.