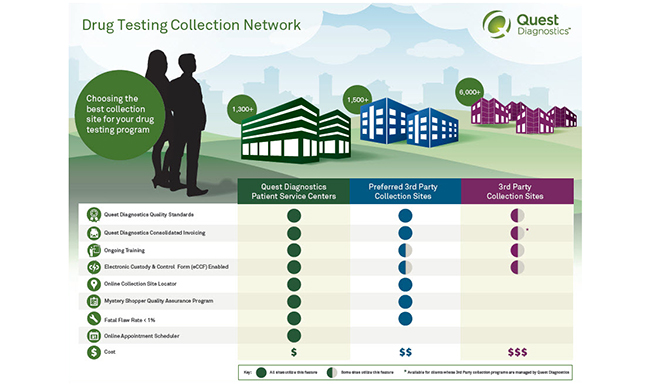 Employers rely on accessible collection sites staffed by trained professionals to help their drug testing programs run smoothly from the start. With more than 8,000 collection sites, including 1,300+ company-owned, and operated Patient Service Centers (PSCs) and 1,500 preferred third-party collection sites, Quest Diagnostics offers unparalleled access to a nationwide network of drug testing sites.
In 2016, we implemented a new strategy for Patient Service Centers (PSC), which involved an innovative approach— partnering with Walmart. Our intent was to better fit into our customer's busy schedules as they shop, pick up dinner, wait for a prescription, or get an oil change.
Effective May 1, 2019, all Walmart PSC locations will be identified as "preferred sites" instead of "Patient Service Centers" in our network. Our collection site infographic helps to detail the differences between each type of drug test collection site in our nationwide network.
No matter where we collect the drug test however, we follow the same standardized processes from collection to result. We also adhere to strict chain of custody procedures to help ensure the integrity of your specimen and the accuracy of the final drug test result.
Locate the nearest collection site near you.
To learn more about our collection services, visit our website.