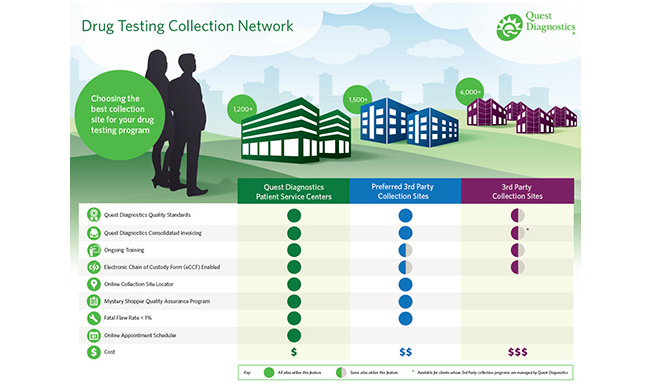 Our drug testing collection site network consists of more than 8,000 locations across the country, and helps to ensure a convenient, consistent, high-quality experience for the donors of our employer customers. But not all collection sites are created equal, and it's important to know the differences between each type of site when making a location selection. Our network consists of three different types of collection sites: Patient Service Centers, Preferred 3rd Party, and 3rd Party.
Patient Service Centers (PSCs) are Quest Diagnostics-owned and operated locations. These 1,200+ sites combine high standards of quality with competitive pricing to provide our clients with the best value.
The Preferred 3rd Party collection site network is comprised of more than 1,500 locations. These sites are specially selected as they've agreed to maintain a high standard of quality and a competitive price. Because of our relationship with these locations, we also pay them directly, allowing us to consolidate and manage the bills for our clients and thereby simplifying the accounts payable process.
If our clients are unable to find a convenient collection site from within our PSC and Preferred 3rd Party collection networks, our extended network includes more than 6,000 additional 3rd Party collection sites. These independently-owned and operated locations help fill in the gaps in our nationwide collection site coverage.
With three types of sites and more than 8,000 locations in our network, it can sometimes be difficult for our employer customers to decide which location best meets their needs, fits their budget and is the most convenient for their donors. In an effort to simplify this decision-making process, we created a graphic that highlights the unique features of each type of collection site.
Download our Collection Site infographic.
For more information about drug testing, visit our website.