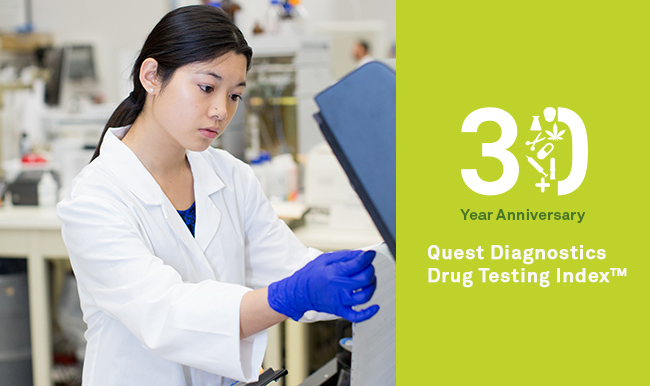 Quest Diagnostics proudly celebrates the 30th anniversary of the Drug Testing Index™ (DTI). Published annually, the DTI reveals insights into patterns of drug use among the American workforce. During the past 30 years, we have seen both the public and private sectors use substance abuse testing programs to deter drug use in the workplace. Our timeline tracks both the progress of the testing industry and illustrates our company's steadfast commitment to helping to keep workplaces drug-free. Today, we take a deeper look at overall positivity rates and key milestones from 2014 to 2018.
In the past 5 years, marijuana and opioids have captured a majority of the media attention in our industry and, more recently, cocaine may be staging a comeback.
Cannabis continues to cause confusion for employers as more states pass medical and recreational use statutes and employee protections vary dramatically across the country. Former U.S. Attorney General James Cole published a memorandum on August 29, 2013, stating that the Obama administration would not challenge state marijuana laws as long as states maintain strict rules involving sales and distribution. Three years later, the Drug Enforcement Administration (DEA) denied 2 petitions to reschedule marijuana under the Controlled Substances Act and it remains a Schedule I drug today. In 2016, marijuana positivity rates in Colorado and Washington, the first states permitting recreational use, outpaced the national average for the first time and rates are climbing in states allowing recreational use. Lab-based oral fluid testing has proven especially effective in detecting marijuana, with a nearly 75% increase in drug test positives from 2013 to 2017.
In 2014, drug overdoses ranked as the new leading cause of accidental death in the U.S., surpassing traffic fatalities. A Quest Diagnostics Health Trends study highlighted our country's struggle with opioids and found that that half of Americans (52%) tested misused their prescription medications. This crisis extends to the workplace and affects 7 in 10 U.S. employers, according to the National Safety Council. Heroin positivity jumped 146% between 2011 and 2015 as more people sought a cheaper alternative to prescription painkillers.
The Trump administration formally declared the opioid crisis a national public health emergency in April 2017 with a strategy that prioritizes prevention, treatment, research, and recovery. Also responding to the epidemic, the U.S. Department of Transportation expanded its test panel to include hydrocodone, hydromorphone, oxycodone, and oxymorphone at the start of 2018.
The paperless revolution for our industry continued with the acceptance of electronic Custody and Control Forms (eCCF) for federally-regulated testing on April 13, 2015. Every Quest Diagnostics drug testing laboratory was approved for eCCF in August 2016 after a rigorous inspection and certification process. Additionally, the Department of Health and Human Services requested comments for guidelines that would accept oral fluid and hair specimens for federally-regulated drug testing in the future.
This 5-year time period began with an overall positivity rate of 3.9% in 2014, which increased to 4.2% in 2018, fueled by cocaine, marijuana, and methamphetamine use. A 12-year high was reached in 2017. Bright spots in the latest data showed heroin positivity declining in the general U.S. workforce to a 3-year low and efforts to curtail the opioid crisis are reducing use, at least among the working public.
Science, technology, testing methodology, policy, public perception, and law enforcement continue to transform workplace drug testing as the Drug Testing Index celebrates its 30th anniversary. We believe insights from the Drug Testing Index have helped to shape our industry and its regulations as we continue to promote a safe, healthy, and productive environment for the American workforce.
Watch our 30th Anniversary of the Drug Testing Index video featuring key milestones from the last three decades.
For more information, visit QuestDiagnostics.com/DTI.
For more information about drug testing, visit our website.