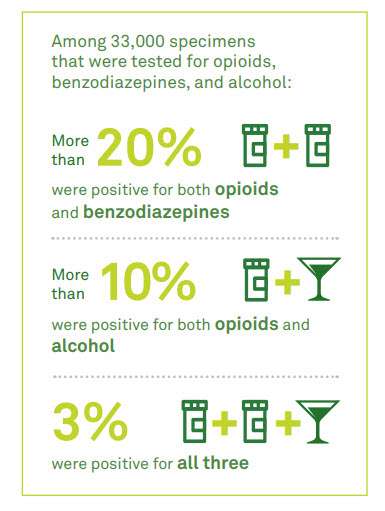 Quest Diagnostics Health Trends studies are published in peer-reviewed medical journals and by the company as a public service. The research features insights and analysis from a large database of laboratory data. Most recently, we released the Prescription Drug Misuse in America: Diagnostic Insights in the Growing Drug Epidemic report, which examined 3.4 million prescription medication monitoring lab tests. Analysis includes results from patients in all 50 states and the District of Columbia performed by Quest between 2011 and 2016.
The study found that, while evidence of misuse has declined in recent years, 52% of test results showed evidence of potential misuse in 2016, suggesting a majority of patients took their prescribed drugs in ways that were inconsistent with their physician's instruction. By comparison, in 2011, 63% of test results were inconsistent with physician orders. Misuse is defined as a patient taking prescribed drugs in a way that is inconsistent with a physician's instruction.
Some key findings from the study include:
More than half of patient specimens (52%) showed signs of prescription drug misuse.
19% of specimens that tested positive for heroin were also positive for non-prescribed fentanyl. This combination of drugs heightens the risk of a drug overdose death.
Misuse rates were even higher for men and women of reproductive age (58%) than in the general study population (52%). Men were more likely to use marijuana and women were more likely to use non-prescribed benzodiazepines.
The most commonly detected drug used by young adults is marijuana, while older adults prefer to use benzodiazepines.
One in three adolescents (ages 10 – 17 years old) tested showed signs of drug misuse in 2016, a major improvement from 70% in 2011.
The study also found dangerous drug combinations are common. Among more than 33,000 specimens tested for opioids, benzodiazepines, and alcohol in 2016, more than 20% were positive for both opioids and benzodiazepines, more than 10% were positive for both opioids and alcohol, and 3% were positive for all three.
As our country faces an epidemic of prescription drug misuse, objective laboratory data can help to assist healthcare providers in assessing patients' use of prescribed medications and other illicit drugs and educate the public about the associated health risks. We offer full line of lab-based drug testing services to help identify the appropriate and inappropriate use of prescription drugs.
See our interactive map showing drug misuse nationally and by state.
To learn more about drug testing, visit our website