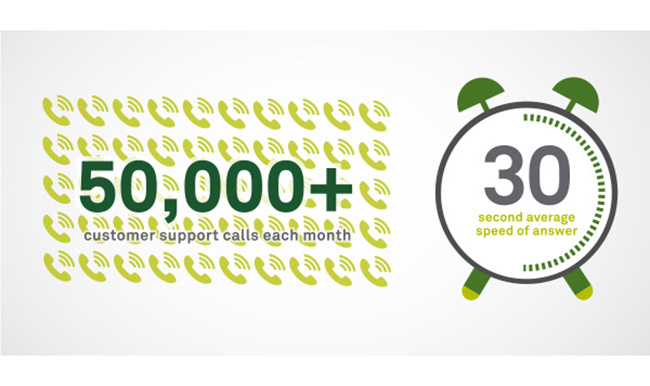 Improving the customer experience is the top priority of our customer support team. Our Customer Support Center is available twelve hours a day (7 a.m. to 7 p.m. CT), five days a week (Monday through Friday), and is staffed with more than 25 representatives at any given moment to ensure a rapid response time for customer inquiries. Our service experts do not work from scripts, but instead take the time to understand the specific need and how to best address it. By being trained on several different areas in drug testing, our team is more knowledgeable and better positioned to address a broad array of questions.
Customer support online
We recently launched a new Customer Support webpage that features resources for some of our most common customer requests – like obtaining statuses for drug tests, locating a nearby collection site, ordering supplies, and setting up a new account. By creating self-service options for customers who prefer to interact with us online rather than over the phone, we're better positioned to meet their unique needs.
What can you expect at a drug test collection? This helpful resource will help.
Customer service when you need it
For times when our customers prefer to speak with a representative, we designed an Interactive Voice Response (IVR) system that provides easy-to-understand options for all inbound callers to our customer support line (which can be reached at 1.800.877.7484). To help reduce hold times and provide quick, clear paths to the answers you seek, we have recently updated the IVR system with intuitive options.
Lean more about the recent changes to our IVR customer service phone system.
By making these ongoing enhancements, our Customer Support team is able to field more than 50,000 calls per month with a 30-second average speed of answer – helping to achieve our ultimate goal of showing that we're there when you need us™.
For more information about our Customer Support, visit our website.