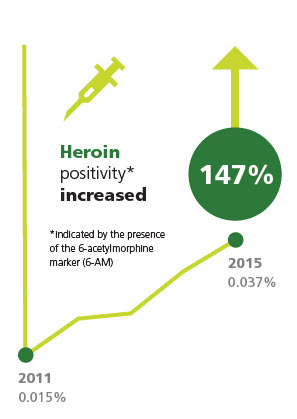 Our By the Numbers blog series takes a closer look at the numbers, facts, data, and outputs that impact workplace drug testing programs. In this post, we look at the heroin positivity rate.
Headlines continue to put a spotlight on startling statistics about heroin addiction and sometimes feature shocking stories to warn the public of the drug's dangers. The National Survey on Drug Use and Health (NSDUH) estimates that there were 435,000 current heroin users in 2014, which translates to 0.2% of the U.S. population. This summer, the U.S. Drug Enforcement Agency (DEA) issued a report detailing the rising number of hospitalizations and overdose deaths due to heroin. The DEA said, "Deaths involving heroin more than tripled between 2010 and 2014 – a rate faster than other illicit drugs."
Analysis from the Quest Diagnostics Drug Testing Index™ (DTI) also asserts that the percentage of workers testing positive for heroin, indicated by the presence of the 6-AM marker, has risen dramatically in recent years. The latest data shows that heroin positivity:
Increased 146% between 2011 and 2015 in urine drug test results in the general U.S. workforce
Grew a relative 4.5% since 2014 and a relative 84% since 2011 among safety-sensitive employees
Rose to 0.14%in oral fluid drug testing, meaning that approximately 1 in every 1,000 employees tested positive for 6-AM
"The numbers are frightening," said Dr. Barry Sample, Senior Director of Science and Technology, Quest Diagnostics. He further explained that the data represents five consecutive years of upticks and could be an indicator of future trends.
Additionally, the National Institute on Drug Abuse (NIDA) has addressed the relationship between prescription opioids and heroin abuse. To summarize the research by NIDA, growing evidence shows that our country has switched from prescription painkillers, such as OxyContin® and Vicodin®, to heroin because of easier access, lower prices, and greater purity. As such, the number of past-year heroin users in the U.S. nearly doubled between 2005 and 2012.
Heroin is classified as a Schedule I drug under the Controlled Substances Act and is highly addictive. It is included in the screen (initial testing) for federally-regulated drug testing programs and can also be added to non-regulated drug testing panels.
Download the Drug Testing Index brochure for insights into patterns of drug use among the American workforce.
To learn more about drug testing, visit our website.