Our eReq solution empowers employers with a simple way to order, track and receive drug screen results online. We've improved upon this process by building connections that now allow all of these advantages to be obtained directly from your existing HR system.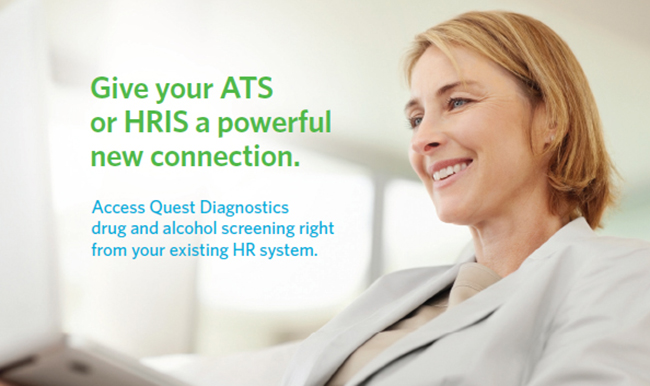 Using the Quest Diagnostics HR Integration Hub, Applicant Tracking System (ATS) vendors connect with us and we connect with you. This integration allows for a single sign-on through which you can order and track your candidate's drug test without ever having to leave your ATS system to log into another system or to be bogged down with yet another paper chain of custody form.
We're currently connected with Taleo Business Edition, Peopleclick Authoria and Jobscience. If you are currently utilizing any of these ATS providers, all you need to do is reach out to them to initiate the connection.
Get connected, sign-on and start reaping the time saving and financial benefits today. It's as simple as that.
Review our brochure on this topic by clicking here.
Questions? Fill out our online feedback form.
For more information about drug testing, visit our website.