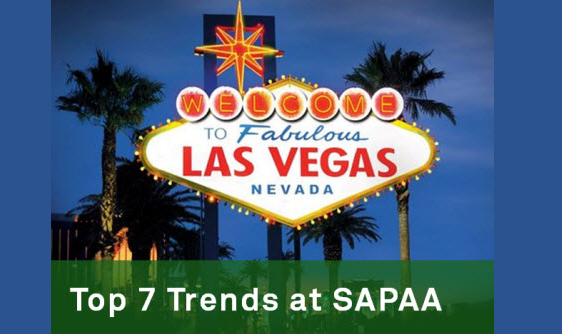 Hundreds of drug and alcohol testing industry professionals met in Las Vegas for the annual Substance Abuse Program Administrators Association (SAPAA) conference last week. As a platinum sponsor, we are proud to support a group whose mission is to establish, promote, and communicate the highest standards of quality, integrity, and professionalism in the administration of workplace substance abuse prevention programs. Several important topics and trends were discussed during the conference, such as:
If an employee abuses drugs, employers can expect a greater risk of unexcused absences, tardiness, theft, workplace violence, or a drug-using employee to quit or be fired within a year, according to a presentation by Marie Marasovich, HR Operations Senior Manager of the Chicago Transit Authority. Additionally, drug users utilize 16 times as many healthcare benefits and incur 300% higher medical costs than non-abusers.
It's important to stay current on federal regulations for the drug and alcohol testing of safety-sensitive employees. Patrice Kelly, Acting Director of the Office of Drug and Alcohol Policy and Compliance (ODAPC), encouraged all attendees to stay current with news and updates by subscribing to the ODAPC list serve, which will alert subscribers to any news from the U.S. Department of Transportation (DOT). Many are awaiting a DOT Final Rule for synthetic opioids and subscribers will hear that news first.
Kelly helped to clarify confusion around the revised Federal Drug Testing Custody and Control Form (CCF). She said, "Service agents and laboratories should continue to use the old CCF form. The old CCF is the one that has been used under the DOT-regulated program since 2010. When using the old CCF, a 'memorandum of record' is not required."
All DOT agencies, including the Federal Transit Authority (FTA) and Federal Motor Carrier Safety Administration (FMCSA), reiterated that questions from drug testing administrators were welcome to help ensure that airplanes, trains, trucks, and buses are "operated in a safe and responsible manner."
Our country faces a national crisis with skyrocketing opioid use and abuse. According to a presentation by Daniel Neill, Assistant Special Agent in Charge of the Las Vegas District Office of the U.S. Drug Enforcement Administration, the U.S. has only 5% of the world's population yet consumes 99% of the hydrocodone and 85% of oxycodone. Additionally, 80% of new heroin abusers start with opioids. According to his data, approximately 65,000 people died of drug overdoses in 2016, a number that would fill every seat in the new Raiders football stadium being built in Las Vegas.
Marijuana remains the most identified drug in America. States continue to pass marijuana legislation despite the drug's Schedule I classification under Federal law. Many employers remain uncertain about their screening options for marijuana and penalties of employee drug use.
Companies should review their substance abuse policies to confirm that the language adheres to state and federal laws, clearly outlines the components of their drug and alcohol testing program, and explains the consequences of policy violations such as a failed drug test. Safety should remain the central focus of any policy.
Associations like SAPAA help to drive process forward and keep industry professionals informed with continuing education and the exchange of ideas. Consider joining an association like SAPAA to boost your knowledge, enhance your drug testing program proficiency, network with industry experts, and stay current on news, trends, technology, research, and regulations.
To learn more about drug testing, visit our website.