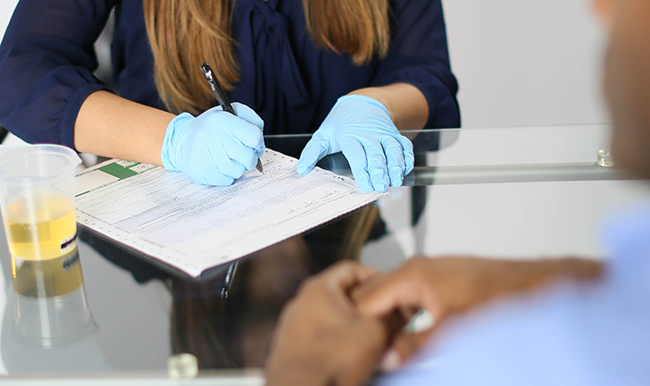 Earlier this year, the Department of Health and Human Services (HHS) revised the Mandatory Guidelines for Federal Workplace Drug Testing Programs. The HHS guideline revisions will lead to the following changes:
Expanded Federal urine workplace drug testing to include four Schedule II drugs: hydrocodone, hydromorphone, oxycodone, and oxymorphone
Removed MDEA for confirmatory testing
Raised the lower pH cutoff from 3 to 4 to identify an adulterated specimen
Allowed a Medical Review Officer (MRO) to recommend the collection of an oral fluid specimen in certain situations, as permitted by agency policy
This week, the Office of Management and Budget (OMB) approved the revised Federal Custody and Control Form (CCF). This approval essentially links the forthcoming testing changes to the required paperwork that will accompany the testing specimens. HHS published a Q&A document to help clarify a number of the changes.
While the impact of these revised regulations is somewhat complex, here are a few key insights that you should be aware of at this time:
1. These changes only apply to Federal employee testing. If your company performs oral fluid, hair, instant, or non-DOT urine drug testing, these changes do not apply to your program.
**Update** On Friday, November 10, 2017, the U.S. Department of Transportation (DOT) amended its regulations to add hydrocodone, hydromorphone, oxymorphone, and oxycodone, four commonly-abused opioids; add methylenedioxyamphetamine as an initial test analyte; and remove methylenedioxyethylamphetamine as a confirmatory test analyte. This change harmonizes DOT regulations with the HHS guidelines published earlier this year. The Final Rule published in the Federal Register on Monday, November 13, and the new testing standards will go into effect on January 1, 2018. Read the full text of the Final Rule.
The most current guidance, DOT Drug Testing: Part 40 – Employee Notice, was published on December 12, 2017.
2. At this time, you should not order new paper CCF forms. The new Federal form was approved earlier this week—on August 8, 2017. As such, the printing of new forms has not yet begun. The Federal forms you have on hand today are still valid and can be used without issue for another 10 months—until June 30, 2018.
**Update** On Tuesday, August 15, 2017, the Department of Transportation (DOT) published a notice in response to the HHS release from August 8, 2017. In this notice, they state that because the DOT's final rule on synthetic opiates has yet to be issued, "…employers and their service agents are to continue using the 'old' CCF until further notice from DOT's Office of Drug and Alcohol Policy and Compliance."
3. The anticipated go-live date for the testing changes detailed in the bullet points above is October 1, 2017. This week's announcement only pertains to Federal CCF forms, and was essentially published to give laboratories and other service providers the ability to cease production of the legacy form and to transition production to the new form.
4. There has never been a better time to switch to eCCF. You have better things to do than keeping tabs on changing form and panel regulations, ensuring you're using the correct form at the proper time, and dealing with the expense and hassles of shipping and storing all of this paperwork. Our electronic CCF (eCCF) process helps bear the regulatory and administrative burden for you— the new, online form is scheduled to go live in our system on October 1. There's no cost to use it, it's available today for all specimen types and testing reasons, and it's simple to use. In the time it's taken you to read this article, you could have signed up and gotten started.
As your partner in drug testing and workplace safety, we are aware of the changes and are working diligently on your behalf to ready our laboratories, systems, and personnel. We are committed helping create a smooth and seamless transition as we collectively adapt to the regulatory obligations to which we're bound.
As we do all of this, you should do four simple things:
Continue testing as usual. The effort at this point falls on the laboratory, not on you or your drug testing program. You do not need new forms at this time.
Get news and updates from the DOT via email by subscribing to the DOT notification system (list serve).
Subscribe to our newsletter to ensure you stay current with news and updates on this and other topics.
Join the thousands of customers of all sizes and in all industries who have moved away from paper-based drug testing documentation and who are now processing millions of eCCFs each year
For more information about drug testing, visit our website.
---