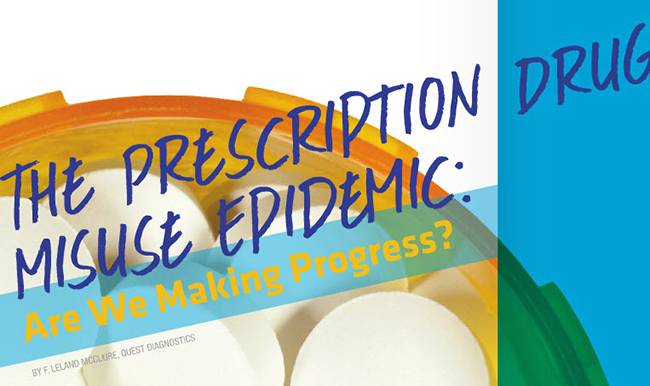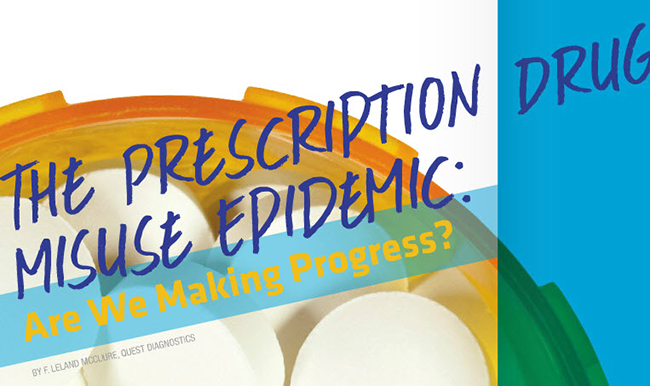 For people with chronic and reoccurring pain, prescription opioids – like Hydrocodone and Oxycodone – not only relieve suffering, but can help support a normal lifestyle, alleviate stress and improve sleep. However, prescription opioids can be just as addictive and dangerous as illicit drugs.
While data from the Quest Diagnostics Drug Testing Index™ revealed recent positivity rate declines for prescription opiates, the increased misuse continues to be a growing concern. Prescription drug abuse is the nation's fastest-growing drug problem and has been classified as an epidemic by the Centers for Disease Control and Prevention.
Dr. Leland McClure, Director of Pain Management, Quest Diagnostics, recently wrote an article on this topic titled, "The Prescription Drug Misuse Epidemic." In the article, Dr. McClure said, "More worrisome than increases in the use of prescription medication is its misuse. Data [from the National Institute on Drug Abuse] indicates that despite [positivity rate] declines, 6.1 million people used prescription medication non-medically in the past month." Dr. McClure explains that, "It's clear that the war on drugs has shifted away from the back alleys and instead on to Main Street."
Read the full article in this issue of DATIA focus magazine – the quarterly publication by the Drug and Alcohol Testing Industry Association (DATIA).
For more information about drug testing, visit our website.