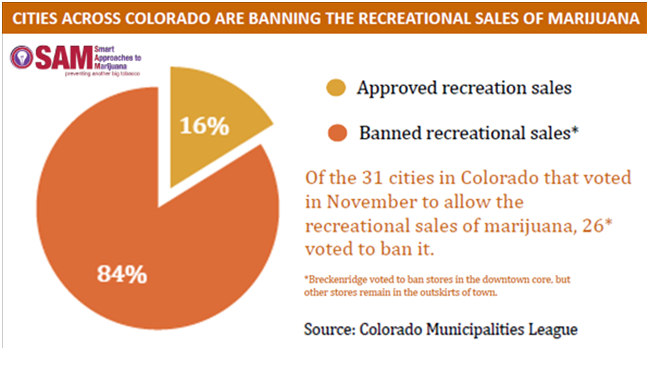 Recreational marijuana use has increased in all age groups in the states where it is legal according to a new report released by Smart Approaches to Marijuana (SAM) called Lessons After Two Years of Legalization. The report reviews the available data "to accurately evaluate the consequences and costs of marijuana legalization in Washington and Colorado." It analyzes areas such as increasing use, ingestion by children, crime, underage use and burn victims as a result of hash oil explosions.
According to the report, the federal government took a "hands-off approach, promising to track nine consequences of legalization" yet, to date, there isn't a robust public tracking system. SAM began tracking concerns and published this report. These are some key points from the data:
Past-year and past-month marijuana use exceeds the national average in the two states that legalized recreational use – Colorado and Washington. According to National Survey on Drug Use and Health (NSDUH) data, use in these states has risen significantly since 2011.
The number of children sent to the emergency room in Colorado for accidental marijuana ingestion in the first half of 2014 doubled from the year prior.
The Washington Poison Center has "encountered an increase in the number of human exposures related to accidental or excessive consumption/inhalation of marijuana and marijuana edibles, particularly among pediatrics."
The Denver Police Department reports disorderly conduct, public drunkenness and drug violations trending upward.
Citations for driving under the influence of marijuana are up in Colorado and Washington. Data from Washington showed that 23.8 percent of DUI/DRE cases tested positive for THC.
Colorado marijuana is regularly diverted to other states with highway seizures up 397 percent.
University of Colorado Hospital has observed an increase in marijuana-related burns since 2012.
Twenty-six of the 31 cities that voted to allow recreational marijuana sales in 2011 have since voted to ban sales.
Smart Approaches to Marijuana is an anti-legalization group of professionals with an approach to marijuana based upon science, public health, safety and research. The group calls for more sophisticated data in regards to marijuana and the consequences of legalization.
For more information about marijuana, read our 10 facts you should know about marijuana blog post.
To learn more about drug testing, visit our website.