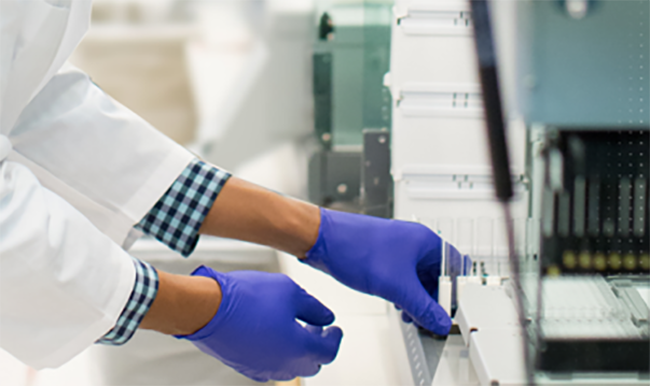 The Quest Diagnostics Drug Testing Index™ (DTI) reveals insights into patterns of drug use among the American workforce. It has been published annually for more than 25 years as a public service for government, employers, policymakers, media, and the general public. This year's report will be presented at the Drug and Alcohol Testing Industry Association (DATIA) annual conference, a gathering of industry professionals focused on safety, regulatory affairs, ethics, and workplace drug testing education from all over the world.
In examining the latest data, Barry Sample, Ph.D., Senior Director of Science and Technology at Quest Diagnostics, said, "This year's findings are remarkable because they show increased rates of drug positivity for the most common illicit drugs across virtually all drug test specimen types and in all testing populations." He noted the following key findings from millions of workplace drug test results.
Overall positivity in urine drug testing among the combined U.S. workforce in 2016 was 4.2 percent, a five percent relative increase over last year's rate of 4.0 percent, and the highest annual positivity rate since 2004 (4.5 percent).
Cocaine, marijuana, and methamphetamine use is up broadly among the U.S. workforce across multiple drug test specimen types and testing populations.
Cocaine positivity increased 12 percent in 2016, reaching a seven-year high of 0.28 percent.
The positivity rate for cocaine in post-accident urine drug tests was more than twice that of pre-employment urine drug tests in both the federally-mandated, safety-sensitive and the general U.S. workforces.
In Colorado and Washington, the overall urine positivity rate for marijuana outpaced the national average in 2016 for the first time since the recreational statutes took effect.
Year over year marijuana positivity increased nearly 75 percent in oral fluid testing. In addition, positivity increased in both urine and hair testing in the general U.S. workforce.
Between 2012 and 2016, methamphetamine positivity climbed 64 percent in the general U.S. workforce and 14 percent among federally-mandated, safety-sensitive workers.
Heroin detection, indicated by the presence of the 6-acetylmorphine (6-AM) metabolite, plateaued in the general U.S. workforce while prescription opiate detection declines.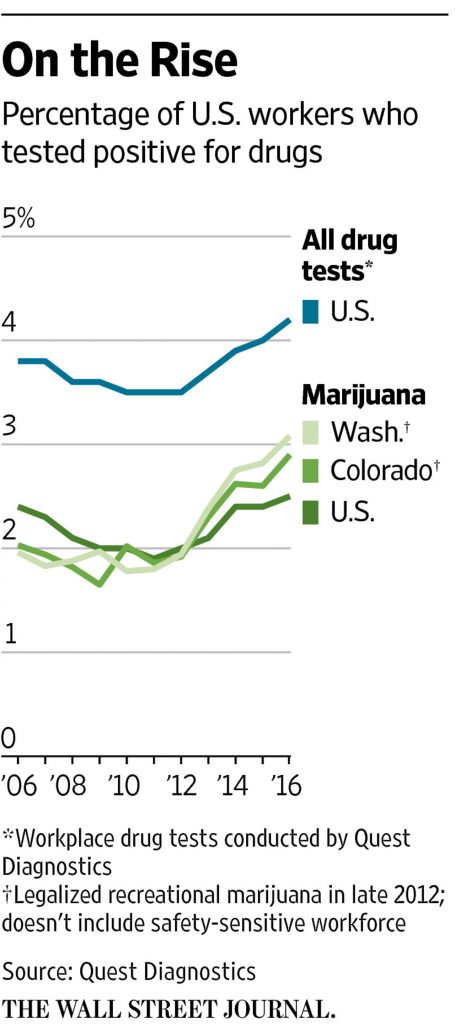 "Once again, the DTI statistics reveal the on-going threat to workplace safety posed by substance abuse. While the national dialogue swirls around marijuana and opiate issues, we find cocaine—a substance with well-established dangers—continuing its troubling upswing not just in the general workforce, but in safety-sensitive jobs with federally-mandated testing," said Matt Nieman, General Counsel, Institute for a Drug-Free Workplace and Principal, Jackson Lewis P.C. "That positive test results for cocaine persist, let alone are increasing, should serve as a reminder to employers and employees that there is no substitute for vigilance in any effective effort to thwart the potential impacts of workplace substance abuse."
Workplace drug testing promotes a safe, healthy and productive environment for employees. Our analysis suggests that employers committed to creating a safe, drug-free work environment should be aware of the potential for drug use among their workforce.
Media coverage for the Drug Testing Index includes an exclusive story by The Wall Street Journal. Other press featuring the DTI includes: The Washington Post, CNBC's Closing Bell, TIME magazine, Fortune, CBS Money Watch, Vice, MarketWatch, The Chicago Tribune, Facility Safety Management, Business Insurance, Insurance Journal, Daily Republic, FOX Denver,  Newsday, NJBIA, New Jersey's NJ.com, Pittsburgh Post-Gazette, North Nevada Business Weekly, Dayton Daily News, Brevard Times, The National Law Review, Politico, The Trucker, HR Dive, Medical Laboratory Observer: LabLine, Crime Report, Drug Chronicle, Steelers Lounge, Sector Publishing, Daily Caller, Newsmax Wires, RT, Bulk Transporter, Lexology, Daily Chew, NCAS, Junior College, Industry Week, Salon, ExamOne blog, WSJ: The 10-Point, Construction Equipment, EHS Today, Kansas City Star, Baltimore Sun, Hartford Business Journal, USA Today: Louisville, Charleston Post-Courier, Twin Cities Business magazine, New Hampshire Union Leader, Santa Rosa Press Democrat, Traverse City Business News, Human Resources Executive, Society for Human Resources Management (SHRM), Transport Topics, Recruiter.com, Cincinnati.com, BenefitsPRO, The Columbus Dispatch, Elko Daily Free Press, and USA TODAY Snapshot.
In addition, the Jimmy Kimmel Live show cited Quest Diagnostics data in its Pedestrian Question segment and asked people if they have ever been high at work.
Read the full press release that includes the latest DTI data.
Download our new Quest Diagnostics Drug Testing Index brochure and this year's DTI infographics.
For more information about drug testing, visit QuestDiagnostics.com/DTI.