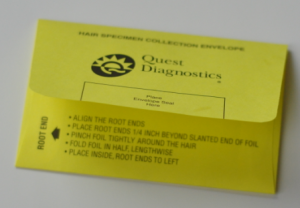 Hair testing provides up to a 90-day detection of repetitive drug use, which can act as a powerful drug use deterrent and often yields higher positivity compared to other testing methods. Collections are observed, making them nearly impossible to adulterate.
Quest Diagnostics Employer Solutions runs a dedicated hair testing laboratory with proven technology staffed by a team of experts. Our national and international collection site network delivers a convenient, consistent and professional collection experience. Only Quest Diagnostics offers hair, urine, oral fluid and instant testing, allowing you to create a customized, multi-specimen testing program, all though a single, convenient provider.
We recently implemented two hair testing kit enhancements. First, our envelope color has changed from white to bright yellow. We made this change to ensure that these envelopes are as visible as possible and that they are easy for our employees to differentiate from other packaging materials at the laboratory. The second improvement that you will notice on the new kits is the addition of an RFID (radio-frequency identification) tag. This tag gives us an increased level of control and helps to ensure the safe handling of your specimens. Our goal, as always, is to ensure a smooth and error-free process once we receive your hair testing specimens.
For more information about drug testing, visit our website.