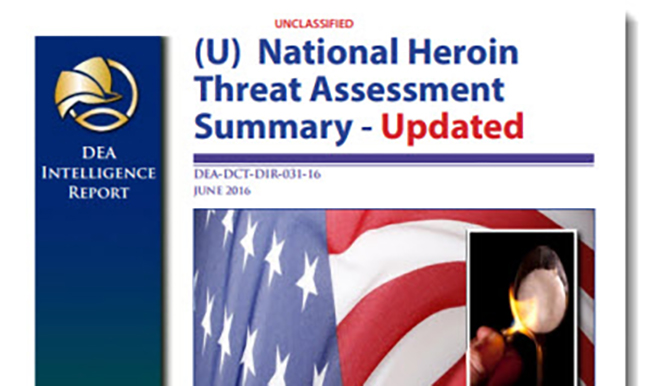 The U.S. Drug Enforcement Agency (DEA) published the 2016 National Heroin Threat Assessment Summary on June 27, 2016, detailing the threat of heroin and opioid drug abuse in the United States. Heroin is now available in larger quantities, it is being used by a greater number of people, and it is causing an increasing number of hospitalizations and overdose deaths according to this new report. As a result, our country is experiencing a genuine heroin addiction epidemic. The DEA's report provides key insights about the state of heroin use:
The number of people reporting current heroin use nearly tripled between 2007 (161,000) and 2014 (435,000).
Deaths due to synthetic opioids, such as fentanyl and its analogues, increased 79 percent from 2013 to 2014.
Deaths involving heroin more than tripled between 2010 (3,036) and 2014 (10,574) – a rate faster than other illicit drug.
There is no longer a typical heroin user. Some of the greatest addiction rates occur among higher income women.
More people seek treatment for heroin use than for any other illicit drug.
"We tend to overuse words such as 'unprecedented' and 'horrific,' but the death and destruction connected to heroin and opioids is indeed unprecedented and horrific," said DEA Acting Administrator Chuck Rosenberg in the release.
Many attribute the uptick in heroin abuse to individuals addicted to prescription painkillers, who end up switching to heroin because of price, purity and availability. In the latest Quest Diagnostics Drug Testing Index™ report, Dr. Barry Sample, Director of Science and Technology, Quest Diagnostics, echoed a similar sentiment saying, "with the high costs associated with prescription opiates, some drug users may be turning to comparatively cheaper alternatives like heroin."
The DEA report also noted that thousands of counterfeit pills containing potentially-deadly amounts of fentanyl have been introduced into the U.S. market. Fentanyl is most commonly mixed with white powder heroin or is sold disguised as white powder heroin. This year alone, the agency has issued multiple alerts about fentanyl-related deaths and law enforcement seizures.
Download the full 13-page DEA summary to see detailed charts and maps.
Download our reference guide for Common Drugs of Abuse.
To learn more about drug testing, visit our website .