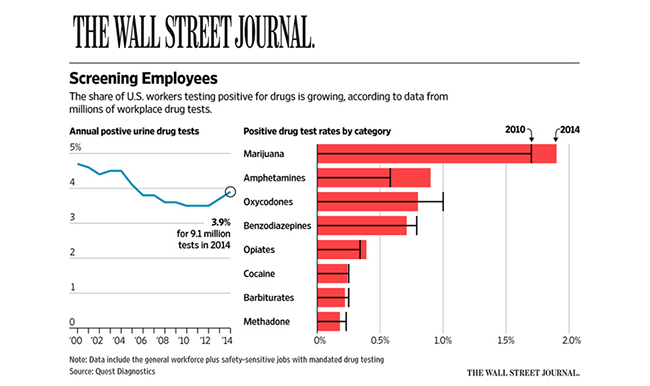 The Wall Street Journal published the latest Quest Diagnostics Drug Testing Index™ data with a headline declaring that "Workers' Drug Use Appears to Rise."  Lauren Weber, WSJ Careers Reporter, wrote that the numbers reflect the reversal of a long trend of declining drug use among workers. Before 2013, drug test positives had dropped nearly every year for 24 years, from 13.6% in 1988 to a low of 3.5% in 2012. Today, the annual positivity rate is 3.9%.
Dr. Barry Sample, Director of Science and Technology, Quest Diagnostics, said, "The upturn mirrors higher levels of substance use in the broader population. A survey by the Department of Health and Human Services found that in 2013, 9.4% of Americans age 12 or older had used illicit drugs in the month before the survey interview was conducted, up from 9.2% in 2012 and 8.7% in 2011."
Weber also interviewed two employers with drug testing programs, an attorney who advises employers about their testing policies as state laws change and Mark de Bernardo, Executive Director of the Institute for a Drug-Free Workplace.
Marijuana continues to be the most commonly detected illicit drug and the positivity rate in the general U.S. workforce increased 14.3 percent (2.4% in 2014 vs. 2.1% in 2013). Although marijuana represents nearly half of workplace drug test positives, Drug Testing Index (DTI) data also shows an uptick in cocaine and methamphetamine positivity for the second consecutive year.
The Wall Street Journal article informs readers about how employee drug testing works and reports that "most employment-related drug tests are administered to job candidates, usually after an offer has been extended but before employment begins. More than half of all U.S. employers required tests for all post-offer job candidates in 2011, according to the most recent data available from the Society for Human Resource Management (SHRM). In nearly all cases, employers decline to hire candidates with a verified positive result."
Watch a video interview of Lauren Weber discussing her WSJ article.
Learn more at QuestDiagnostics.com/DTI or download the latest brochure. You can also subscribe to get email updates of the latest DTI information.
For more information about drug testing, visit our website.