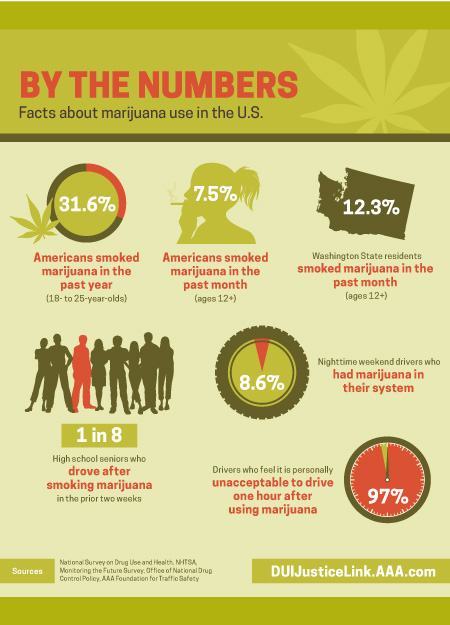 AAA, a federation of motor clubs throughout North America, has gathered compelling data about marijuana legalization and its impacts on drivers. Research published in AAA's Solving the Cannabis Conundrum article cites that 8.6 percent of drivers have marijuana in their systems on weekend evenings, marijuana smokers have an increased crash risk within two hours of smoking and nearly 14 percent of drivers involved in traffic crashes tested positive for marijuana.
Jacob Nelson, Traffic Safety Advocacy & Research Director for AAA, says, "When it comes to cannabis and driving, public policy is way ahead of the research and data, which is counterproductive." For this reason, the AAA Foundation for Traffic Safety is sponsoring two studies about marijuana-impaired driving. One study is analyzing if incidences of marijuana-impaired driving in Washington have increased since marijuana legalization in 2012. The second is examining the severity of an accident in relation to the concentration of THC (delta-9-tetrahydrocannabinol), the psychoactive chemical of marijuana.
Although marijuana is legal in some form in many states across the country, there is no standardized roadside test or legal standard that indicates impairment due to marijuana use.  Nonetheless, a national program administered by International Association of Chiefs of Police and supported by AAA is training officers to become Drug Recognition Experts (DRE). The program helps to give police officers on the frontlines a 12-step DRE evaluation process to follow when drug use is suspected.
"My own personal view is that drugged driving will surpass alcohol-related driving within the next year, if it hasn't already," says Officer Bryan Duncan, a DRE instructor for California's Glendale Police Department.
Officer Duncan's perspective is not extreme. Marijuana is the most commonly used illicit drug, and has been for more than 25 years, according to the Quest Diagnostics Drug Testing Index™.  In addition, the National Institute on Drug Abuse has found that the amount of THC has steadily increased over the past few decades. Higher levels of THC intensify the effects of marijuana which may include impaired judgement, altered senses, lack of balance and coordination, elevated heart rate, difficulty with thinking and problem-solving , anxiety and panic. Any of these symptoms can impact safety and judgment while driving.
For more information about drug testing, visit our website.