Workplace safety, drug abuse, and addiction are all topics that we are well-versed in and can create content about without hesitation. On the other hand, there are subjects that are difficult to write about because the stories make us want to ball-up in a corner and cry.  In life, the best lessons are often learned from the hardest falls. This heartbreaking topic is one where education can inspire action that could save lives.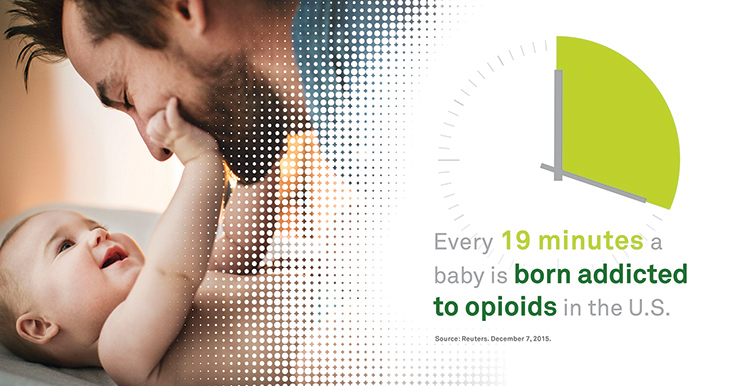 Our country struggles with an opioid crisis and, unfortunately, adults are not the only ones impacted. According to Reuters Investigates, a baby is born dependent on opioids every 19 minutes and the number of children born with neonatal abstinence syndrome (NAS) increased by 300% between 1999 and 2013. NAS is a post-birth withdrawal syndrome caused primarily by prenatal exposure to opioids1.
Common symptoms of babies experiencing opioid withdrawals include:
Body shakes (tremors), seizures (convulsions), overactive reflexes (twitching), and tight muscle tone
Fussiness, excessive crying, or having a high-pitched cry
Poor feeding, poor sucking, or slow weight gain
Fast breathing
Fever, sweating, or blotchy skin
Trouble sleeping and lots of yawning
Diarrhea or vomiting
Stuffy nose or sneezing
Symptoms of withdrawal can be experienced by a baby minutes after entering the world or remain dormant into their first few weeks of life. Additionally, these newborns can experience an increased risk of low birth weight, jaundice, and have a greater need for care and medicine before leaving the hospital. If treated, most babies with NAS get better in 5 to 30 days according to March of Dimes. With all of this in mind, as the opioid crisis continues, it does bring into question the potential merits of adding a simple drug screen into the already broad gamut of tests performed on newborns. The early identification of the presence of drugs could help to lead to better monitoring and treatment.
Reuters noted more than 100 cases in which mothers used opioids during pregnancy and their babies later died preventable deaths (half due to suffocation). Deaths that – even by the mother's claim – would have never happened with more supervision implemented at the hospital.
Tennessee's District Attorney General Barry Staubus summarized the situation in an articulate, eye-opening way saying, "…The flood of prescription opioids into the region has had a tragic effect. When you see those babies scream, you see them claw, you see them shake, it makes the problem real. It's not an abstract policy problem. It's not a lawsuit. It's a baby that never had a chance."
Understanding the dangers, learning the signs and symptoms, and seeking help when necessary may be some of the most important things we can do for ourselves, our loved ones, and the next generation.  If you or someone you know is pregnant and struggling with substance abuse, seek help from a reputable resource such as the Substance Abuse and Mental Health Services Administration (SAMHSA) and their 24/7 national helpline, 1.800.662.HELP.
To learn more about drug testing, visit our website.
https://www.childtrends.org/child-trends-5/5-things-know-opioid-epidemic-effect-children/
https://www.marchofdimes.org/neonatal-abstinence-syndrome-(nas).aspx
---