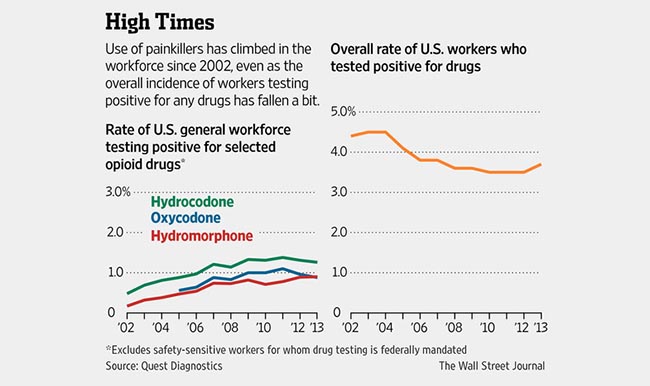 A recent Wall Street Journal article highlights the impact of the increasing use of heroin and opioids in the workplace and its financial toll. Employers are struggling with a rise in accidents, theft, absenteeism and turnover as well as reduced productivity due to drug abuse.
The article tells the story of how drug use is "afflicting the workforce" throughout the country from a factory in Wisconsin that receives reports from employees about their co-workers being high on the job to an employer in Allen County, Ohio who is struggling to fill positions because up to 70% of job applicants are failing the pre-employment drug tests.
In the greater Cincinnati area, employees involved in a range of incidents—from damaging property with forklifts and other heavy machinery to crashing company vehicles—have tested positive for opioids according to the regional health services provider.
Data from the Quest Diagnostics Drug Testing Index™ is cited in the article, showing that while the overall rate of U.S. workers who tested positive for drugs declined 18% between 2003 and 2013, it rose for certain opioids. During the same period, the rate of positive tests nearly tripled for hydromorphone, commonly known as Dilaudid, and almost doubled for hydrocodone, sold under brand names such as Vicodin®. Heroin data is available only for recent years and shows an 82% increase in the positivity rate between 2010 and 2013.
In response to an increase in employee opioid use, companies are expanding their drug testing, introducing zero-tolerance policies and setting up employee assistance programs to help those seeking treatment for addiction.
Today, that Wisconsin factory introduced random drug testing, created a counseling and rehabilitation program and invited police officers to conduct parking lot inspections to help combat the problem. Other companies are also bringing in law enforcement officials to train supervisors to look for signs of drug use and working with other local employers to educate the community and focus on rehabilitation.
For more information about drug testing, visit our website.