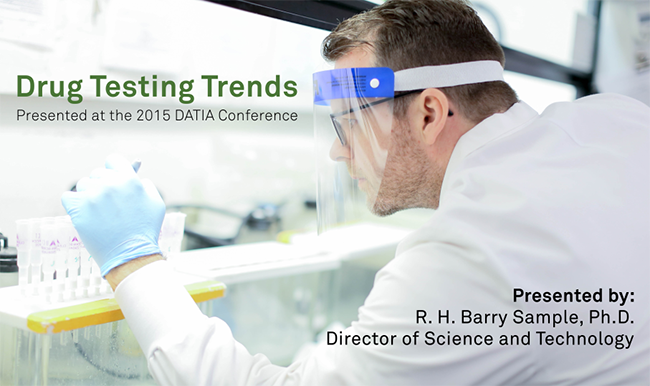 The Quest Diagnostics Drug Testing Index™ (DTI) teems with insights about drug use patterns among American workers. Within the DTI, data from millions of drug tests is examined by drug type, employee category, testing reason, drug testing specimen type and geography. The latest DTI release showed the overall positivity rate increasing sharply, suggesting a potential reversal in the decades' long decline in workforce drug use.
Barry Sample, Ph.D., Director of Science and Technology, Quest Diagnostics Employer Solutions, is responsible for the annual publication of the Drug Testing Index. His leadership and vision into the trends contained within the data have shaped the report into what it is today — our industry's preeminent resource for drug use trends and analysis.
This year, Dr. Sample presented key findings from the DTI at the Drug & Alcohol Testing Industry Association (DATIA) annual conference in Miami. A new video, featured on our DrugTestingTV channel on YouTube, gives you a front row seat to watch highlights from his "Drug Testing Trends" session which includes information regarding:
Upsurge in positivity for marijuana, cocaine, heroin and amphetamines (specifically methamphetamines)
Reversal of a steady increase in positivity for opiates such as hydrocodone, hydromorphone and oxycodone
Consistency between the DTI analysis and self-reported substance abuse from the National Survey on Drug Use and Health (NSDUH)
For more information about drug testing, visit our website.