The best building block for your drug-free work policy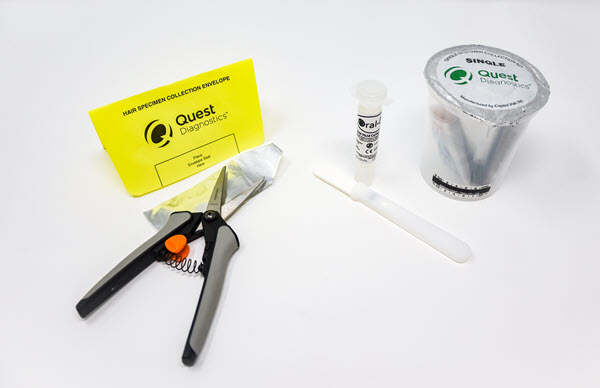 Companies considering implementing their first drug testing program can be overwhelmed by all the options available. We're here to simplify the choices and educate employers about starting a program with our 5 panel drug test. As its name suggests, this test panel uses a single specimen to screen for five drugs. This panel has some history and data to support why it's considered the standard drug test in workplace drug testing.
What is a 5 panel drug test?
This testing panel had its start in the 1980s, following Nixon-era mandates for drug testing for returning U.S. troops from the Vietnam War. The panel has decades history of following guidance from the federal government's drug test programs and is built with the Controlled Substances Act of 1970 as its blueprint. The act combined all prior existing federal drug laws into one single statute, organizing drugs based on their potential for abuse and medical benefits.
What does a 5 panel drug test, test for?
The 5 panel drug test uses a urine specimen to test for five common illicit drugs including marijuana, opiates, PCP, cocaine, and amphetamines. The drug test specimen is sent to a SAMHSA-certified laboratory for analysis and results are reviewed by a Medical Review Officer (MRO). Of course, an employer can screen for more drugs by upgrading to a 7-, 9-, or even 10-panel drug test.
Additionally, the federal government uses a 5 panel drug test regimen, sometimes referred to as a DOT test (US Department of Transportation) which includes screens for amphetamines, cocaine, marijuana, opiates, and PCP. The regulated drug test collection process and program requirements are guided by a meticulous set of rules known as 49 CFR Part 40. As a result, when a non-DOT 5 panel drug test is chosen by employers for their programs, it is often referred to as a "DOT look-alike panel."
Download our reference for the most ordered unit codes for urine drug testing.
Why drug test?
Knowing the why behind workplace drug testing is just as important as the drug test program itself. Perhaps your company can benefit from random or post-accident testing, prefers an observed collection using oral fluid, or requires a longer window of drug detection available from a hair test. As you research what solutions best meet your needs, we have the data and insights to help you make more informed decisions during your drug test program journey.
Take our quiz– Answer 10 simple questions to help your company determine the drug testing solution that best matches your needs.
ROI calculator – Estimating your drug testing program savings and return on investment (ROI) has never been simpler. Our calculator takes only a few minutes to complete as it guides you, step by step, through the process.
Drug testing keeps workplaces safe – From frequently asked questions by drug and test type to comprehensive case studies and white papers, data and research about research is only a click away.
Ready to start? Our comprehensive drug testing guide provides a step-by-step approach to a designing an effective drug testing program for your business.
Read more about drug testing panels in our A Closer Look blog series.
In the end, a drug test panel is a small, yet significant part of a program. Choosing a drug test panel must fit your company, your program goals, your employee population, your state laws, and your reasons for drug testing. As an industry leader, we are ready to help you learn more about drug test panels as well as the entire testing process from start to finish.
If you are ready to start drug testing, contact us online today.