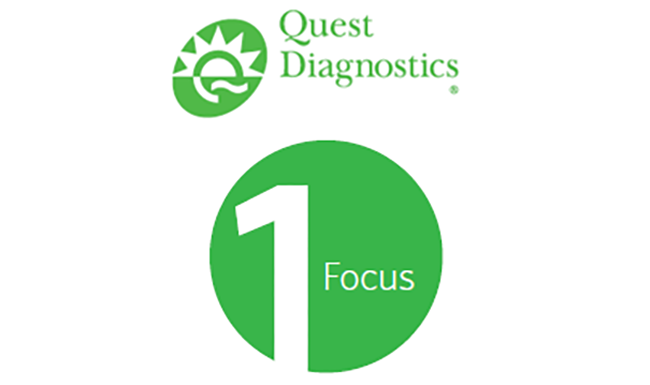 As a leader in the drug testing industry, Quest Diagnostics has earned a reputation as a dependable, reliable, trustworthy partner with a broad network, a variety of testing products and services and the resources it takes to help ensure that we're There When You Need Us™.
The following 5 areas quantify what industry leadership means to us:
Broad access
Quest Diagnostics provides unparalleled access to a combined nationwide network of more than 8,000 collection sites and around the clock coverage with our 24/7 emergency collection services. Our network simplifies your testing program and provides greater convenience for your donors.
1,200+ Quest Diagnostics Patient Service Centers
1,500+ preferred collection site locations
6,000+ third-party collection site locations
6,000+ on-site collectors dispatched from more than 200+ offices
50+ countries (and growing) offering international drug test collections
Extensive testing
With more than 9 million drug tests performed annually, Quest Diagnostics is a leading provider of workplace drug testing. We offer a wide variety of specimen testing modalities including urine, oral fluid, hair and instant testing because not very test fits every situation. An additional testing landmark of note is that our lab-based oral fluid collection system – Oral-Eze® – recently reached a significant milestone as we processed test number 1 million.
Trusted Data
Since 1988, the Quest Diagnostics Drug Testing Index™ (DTI) has reported drug use trends based on insights derived from more than 100 million individual workplace drug tests performed by our laboratories. More than 100 media outlets have published content from the DTI including The Associated Press, CNN and The Wall Street Journal. The DTI is regarded as the preeminent benchmark for our industry and examines positivity from 3 major testing populations: federally mandated, safety-sensitive workers; the general workforce; and the combined U.S. workforce. Dr. Barry Sample continues to monitor data from millions of drug tests annually by testing category, testing reason, drug type and region. In the past 25 years, we have observed annual positivity move from nearly 14 percent to below 4 percent, demonstrating the effectiveness of drug testing programs.
Insightful resources
Drug abuse in the workplace puts employers at risk for increased accidents, greater absenteeism and lower productivity. Drug testing helps companies to mitigate these risks by screening out job candidates and employees who use drugs. Join the more than 20,000 other companies who have used our revolutionary Drug Testing ROI Calculator™ tool and learn how much your organization could save as a result of implementing or sustaining a drug testing program.
Singular focus
Quest Diagnostics didn't earn a position of industry leadership by managing thousands of collection sites, performing millions of drug tests or by being in business for more than two decades. We earned our position of leadership by performing one collection at a time, one test a time, one day at a time. We earn it by focusing on you and by doing everything we possibly can to continually demonstrate that We're There When You Need Us.
For more information about drug testing, visit our website.