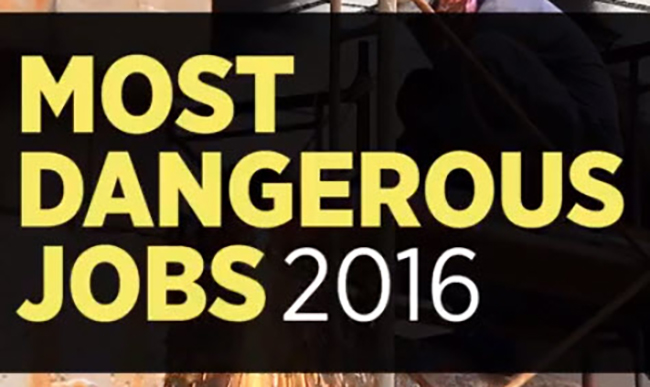 Certain professions come with inherent dangers and compel employees to directly face life-threatening situations. Other jobs require employees to spend entire workdays on roads and highways or in environments with heightened exposure to risk, elevating their chances of accidents.
In "America's Most Dangerous Jobs in 2016," Forbes journalist Karsten Strauss highlights fields associated with danger such as civil service, transportation, and construction. The data was compiled from the U.S. Bureau of Labor Statistics (BLS) and the Centers for Disease Control and Prevention (CDC) by an employment site called CareerCast.com who ranked the jobs that pose the highest risk for serious injury or fatality. According to the research, these 10 careers carry the greatest threat to the safety of their workers:
Construction as a whole ranks as one of the most dangerous fields because laborers complete duties in high-risk construction zones.
Correctional officers are in charge of nearly 2 million inmates incarcerated in institutions throughout the United States.
The CDC reports more than 20,000 workplace injuries are sustained by Emergency Medical Technicians (EMTs) annually as they assist others.
Farmers and ranchers operate heavy equipment and work with powerful livestock, increasing their risk of injury or illness.
Firefighters battle burns, smoke inhalation, falling debris, and heights day after day on the job.
Nursing assistants are exposed to contagions daily, making it a physically hazardous position.
Police officers protect public safety yet rank highly for time lost due to on-the-job injuries.
Taxi drivers log long hours on the road and also face the threat of robbery.
The Federal Motor Carrier Safety Administration (FMCA) reports 11 accidents per day involving semi-trucks in our country, putting heavy and tractor-trailer truck drivers continually in harm's way.
Veterinarians work with animals that can become unpredictable and cause injury.
With those facts in mind, people who use drugs and are employed or looking to be hired into these fields have the potential to make already risk-filled work conditions even more dangerous. For that reason, keeping the workforce drug-free is critically important.  A comprehensive drug testing program seeks to filter out drug users and to deter substance abuse in the workplace using a number of testing reasons.
To learn about drug testing, visit our website.