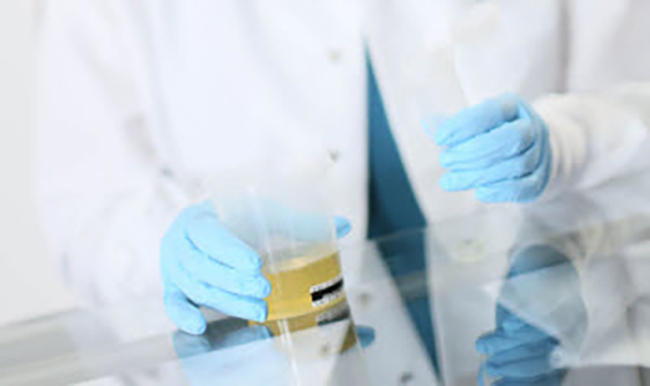 Earlier this month, the U.S. Department of Transportation (DOT) amended its drug testing program regulations for all DOT employees effective January 1, 2018. This harmonizes DOT regulations with guidelines established by U.S. Health & Human Services (HHS) for federal drug testing programs. The most notable change with this new regulation is the addition of four Schedule II semi-synthetic opioids to the test panel: hydrocodone, oxycodone, hydromorphone, and oxymorphone.
Secretary of Transportation Elaine Chao said in a November 13 bulletin, "The opioid crisis is a threat to public safety when it involves safety-sensitive employees involved in the operation of any kind of vehicle or transport. The ability to test for a broader range of opioids will advance transportation safety significantly and provide another deterrence to opioid abuse, which will better protect the public and ultimately save lives."
Dr. Barry Sample, Senior Director of Science and Technology,  Quest Diagnostics was interviewed by Transport Topics and said, "We fully expect to have more laboratory positives. And, I would expect there will be more Medical Review Officer positives as well. There will be additional specimens that screen positive that in the past would have confirmed negative. So those will have a longer turnaround time."
Understanding the language in the Final Rule can be challenging. Therefore, our experts have answered some of the most frequently asked questions about the new guidance in an effort to prepare you for the DOT deadline.

Will there be a new name for the 5-panel DOT test since it will include additional drugs?
The DOT still considers this a 5-panel drug test, because there are no new classes, or groups, of drugs. Because all of these drugs are opioids, the test will continue to be referred to as a 5-panel test.
What is the difference between the terms opiates and opioids?
The term opiate has historically referred to a psychoactive substance found in, or derived from, the opium poppy, with certain structural characteristics common to the entire class. Opioid is a more modern term and includes naturally occurring (e.g., morphine), semi-synthetic (e.g., oxycodone), and synthetic (e.g., fentanyl) substances, as well as antagonists (e.g., naloxone) that interact (bind) with the opiate receptor in the body. In the context of the new DOT regulations, "opioids" refers to six specific opioid drugs included in the DOT panel.
Has Quest Diagnostics made any recent changes to its opiates panel?
Yes. We began using a new reagent/assay in April 2017 that is more sensitive and specific for detecting hydrocodone and hydromorphone in our semi-synthetic opiates immunoassay screening (initial) test. This enhancement offers a greater ability to detect these opiates.
Will my DOT look-alike drug test panel change on January 1, 2018?
No. This new regulation only impacts automatic changes made to the DOT drug testing on January 1, 2018. If you want your non-regulated panel, or DOT look-alike panel, to mirror the new DOT drug test panel, please contact your Sales or Account Management representative to make these changes.
When will the Federal Custody and Control Form (CCF) change with the new regulations?
Federal CCF forms used for DOT drug testing will not change until after January 1, 2018. Additionally, the 2014 Federal CCF is authorized for use until June 30, 2018. At this time, you should not order new paper CCF forms. For more information, see the DOT's Notice: Federal Drug Testing Custody and Control Form. 
Can I use electronic Custody and Control Forms (eCCF) for DOT drug testing?
Yes. The eCCF process helps to bear the administrative burden and the eCCF form is available to begin using today, at no additional cost. Benefits of eCCF include fewer data-entry and legibility issues, less paper to manage, and improved overall efficiency. Get started today.
We are refining our laboratory testing and updating our IT systems to comply with all DOT requirements. Rest assured that all of Quest Diagnostics drug testing laboratories will be ready on January 1, 2018. Contact your Quest Diagnostics representative if you have additional questions about this new guidance.
The DOT Drug Testing: Employer DOT Policies – the Part 40 Changes helps to clarify company policy issues.
The most current guidance, DOT Drug Testing: Part 40 – Employee Notice, was published on December 12, 2017.
Read the full text or the Part 40 Final Rule – DOT summary of changes.
Get news and updates via email from the DOT by subscribing to the notification system, or list serve.
For more information about drug testing, visit our website.