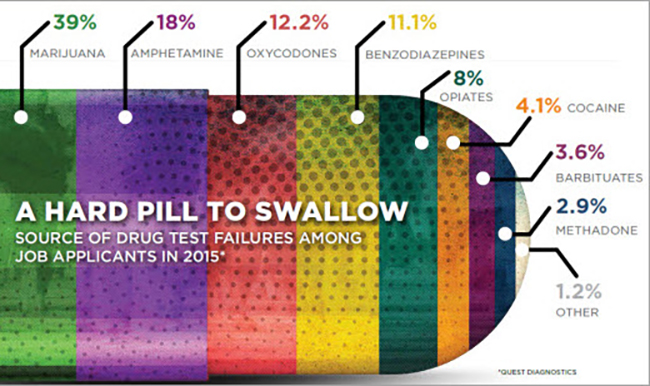 Many businesses are finding it increasingly difficult to find applicants who can pass a pre-employment drug test. According a recent article in Briefings magazine, "the country has a growing drug problem, and it is spilling over into the workplace in ways many companies doing large-scale hiring have not anticipated."
Dr. Barry Sample, Senior Director of Science and Technology, Quest Diagnostics, told Briefings that in different markets, employers are finding it increasingly difficult to identify people through their screening who are not using drugs.
The latest Quest Diagnostics Drug Testing Index™ (DTI) analysis revealed a 10-year high for overall positivity in the combined U.S. workforce and the fifth straight year of increases in detection rate of amphetamine, heroin, and marijuana. Media, government, and other research sources echo the DTI's insights about the trend of escalating drug use in America. For example:
Substance abuse in the workplace costs employers billions of dollars annually with negative impacts such as higher absenteeism, lower productivity, and a greater risk for accidents or injury. As the country faces a mounting drug problem, drug-free workplace programs attempt to filter out drug users and deter substance abuse in the workforce.
Read the full Briefings article: A Test That Too Many People Fail.
For more information about drug testing, visit our website.