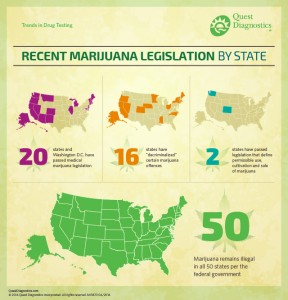 Last week, The Washington Post published an informative article authored by Dr. Robert DuPont, a leader in drug abuse prevention and treatment. The article – Pot is becoming legal in more places, but we should drug test employees anyways – presents Dr. DuPont's perspectives on marijuana, workplace drug testing, and how they fit together. Read the full article, or continue reading as we break down several of the key points of this article.
Although there are 23 states that allow the use of "medical" marijuana and two states, Washington and Colorado, that have passed legislation legalizing the recreational use of the drug – Dr. DuPont speaks poignantly as to why employers should continue to drug test their employees:
After implementing drug testing programs, many employers report higher productivity, less absenteeism, lower employee turnover, and declines in workers' compensation claims
In a 2011 SHRM poll of human resources managers, the number of employers reporting high absenteeism fell by half after the implementation of drug-testing programs
There is clear evidence of the short- and long-term adverse effects of marijuana use, including impairment related to memory, altered judgment, motor coordination, cognition and even addiction
Stopping workplace drug testing for marijuana and other drugs of abuse would negatively affect the productivity and safety of the U.S. workforce
The scientific facts and current federal law speak for themselves as Dr. DuPont clearly states, "Some marijuana advocates argue that companies conducting drug tests in states that have legalized marijuana are at odds with the law. That's not true. Marijuana sale and use remain illegal under federal law everywhere in the country. Federal law supersedes state law when they conflict. That being said, it is wise for employers to update their drug testing policies and procedures in the states with medical and/or recreational marijuana so that expectations for employees are clear. "
For more information about drug testing, visit our website.