A number of recent advancements in drug testing technology and practices are making life a little easier for those who administer programs. Perhaps the breakthrough that holds the greatest promise of efficiency and cost control is the development of the electronic Custody and Control Form (CCF).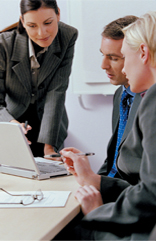 At the recent conference of the Drug and Alcohol Testing Industry Association (DATIA), there was a lot of buzz in the exhibit hall about electronic custody and control forms. The Quest Diagnostics booth had a steady stream of curious program administrators stopping by for demonstrations of the Quest Diagnostics eReq program. Why so much interest? Because both buyers and sellers of drug testing are looking for ways to streamline the process, improve service, and make the test result faster and easier to get; something as revolutionary as an electronic CCF system has universal appeal.
Imagine this scenario: It's time for a drug test. Rather than filling out a CCF by hand and hoping that you haven't forgotten any critical information, that the collection site personnel can read your writing or that you're using the correct form, you simply go online and initiate the drug test. The donor then shows up at the designated collection site with a unique barcoded identifier, and the collection process continues. You can even designate a deadline for the collection… if the donor fails to show up in time you are alerted electronically.
Another feature of Quest Diagnostics eReq is that it allows you the ability to electronically monitor the status of each test ordered. You can check online to learn if the donor has checked in, if the collection is in process, if the individual refused to be tested, or that the process is complete.
As you consider an electronic CCF system, it is important to look for certain features. For example, look for a system that is entirely online and automated, and one that significantly reduces the time it takes to fill out a CCF by providing pre-populated data. Also look for a barcoded donor identifier system that simplifies the process of verifying the donor. Another important feature of a good system is the ablity to monitor the status of the test.
Electronic custody and control forms may be relatively new to the drug testing industry, but these systems introduce important advantages that make them worthy of consideration.
Have questions about the new process? Email the Quest Diagnostics eReq team.
Click here to see an online demonstration of the eReq process.
Article provided by Bill Current.
For more information about drug testing, visit our website.